TEACH PLUS NAMES 16 EDUCATORS AS FELLOWS OF STATEWIDE POLICY FELLOWSHIP IN COLORADO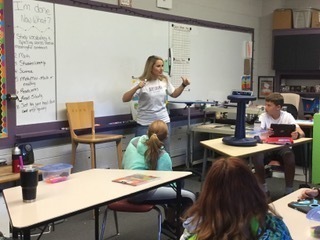 Denver, CO, 9/16/2019—Teach Plus, a national nonprofit that empowers teachers to lead improvements in policy and practice, has selected 16 highly-effective teacher leaders as Fellows of its fourth Colorado Teaching Policy Fellowship. During the nine-month program, Fellows will work on key state-level issues, including teacher preparation, teacher evaluation, and social emotional learning. The program empowers teachers to magnify the impact they have in their classrooms through personal interactions with education leaders and opportunities to advocate for policies that will better serve Colorado teachers and students.
"The new cohort is set to build upon the outstanding work of the 2018-19 Fellows, who provided recommendations on legislation to eliminate suspensions and expulsions in Pre-K-2nd graders, successfully advocated to fund full-day kindergarten, and provided opportunities for teachers to micro-pilot ideas on teacher evaluations," said Mark Sass, Colorado State Policy Director. "Having excellent teachers from around the state bring their perspectives to bear on Colorado education policy is vital to ensuring that teachers are charting the course of our students' education along with other stakeholders."
"I applied for the Teach Plus Fellowship because I feel that educators can and should bring their unique perspective to the policymaking process," said Kristin Timm, Colorado Policy Fellow and special education teacher at Julesburg Elementary School. "When educators' voices are heard, policies will have a higher success rate for students, and be in tune with the realities of public education. I am thrilled to join this wonderful group of educators to help enact realistic change."
Using the advocacy, communications, and research skills acquired during the Fellowship, the Fellows will continue to build on the work and advocacy of previous Teach Plus Colorado cohorts. The new Fellows come from across the state and teach in a variety of urban and rural districts. They teach in charter, innovation, and non-charter public schools, and across all grade levels. Many of the Fellows are leaders in their schools and communities and have been recognized for their outstanding instruction.
The 2019-20 Colorado Teaching Policy Fellows are:
Karen Amidon, Peak to Peak Charter School, Boulder Valley School District
Heidi Batchelder, Odyssey School of Denver, Denver Public Schools
Michelle Curry, Strive Prep Rise, Denver Public Schools
Ashley Farris, KIPP Denver Collegiate High School, Denver Public Schools
Cara Godbe, Cottonwood Elementary School, Montrose County RE-1J
Lilia Guimaraes, New America School, Jefferson County Schools
Jessica Hall, Hillcrest Elementary School, Adams 12 Five Star Schools
Madison Hays, Glenwood Springs High School, Roaring Fork School District
Brandi Hester-Harrell, Empower Community High School, Aurora Public Schools
Holly Hyosaka, Strive Prep Excel High School, Denver Public Schools
Joanna Khatavkar, J.W. Maxwell Elementary School, Denver Public Schools
Chloe Knowling, Rocky Mountain Prep Berkeley, Denver Public Schools
Edwina Lucero, Strive Prep Excel High School, Denver Public Schools
Renee Nabors, KIPP Sunshine Peak Elementary, Denver Public Schools
Paul Oser, New America School, Jefferson County Schools
Kristin Timm, Julesburg Elementary School, Julesburg RE-1
About Teach Plus
The mission of Teach Plus is to empower excellent, experienced teachers to take leadership over key policy and practice issues that affect their students' success. Since 2009, Teach Plus has developed thousands of teacher leaders across the country to exercise their leadership in shaping education policy and improving teaching and learning, to create an education system driven by access and excellence for all.