Kindergarten 2020-2021 We made it!! 🎉🎉 I sure am going to miss these kids!! What an amazing group!! Have a wonderful summer!! I can't wait to see all of you continue to shine in First Grade! 📚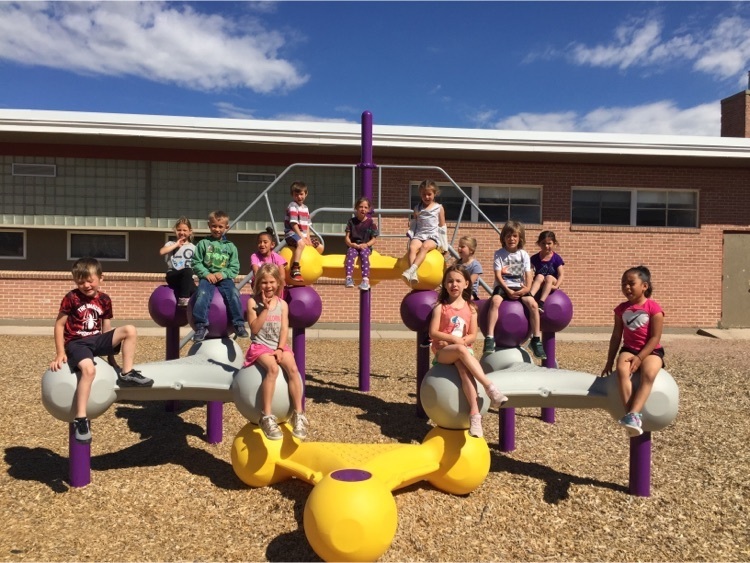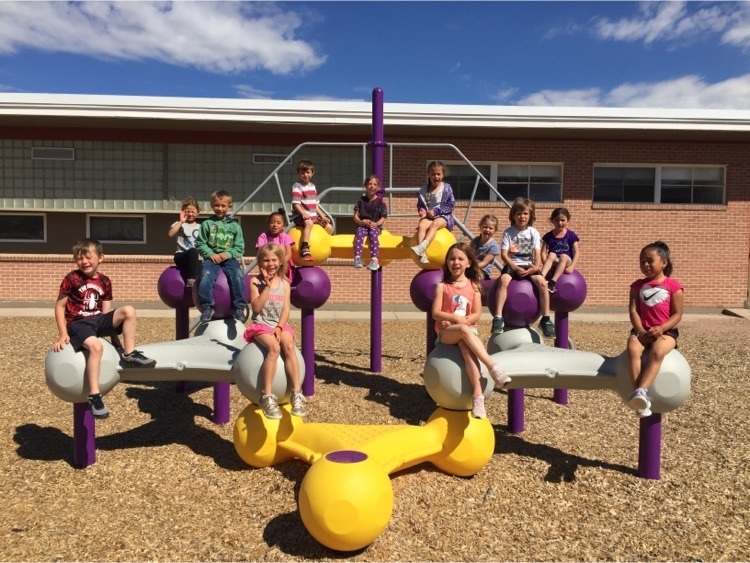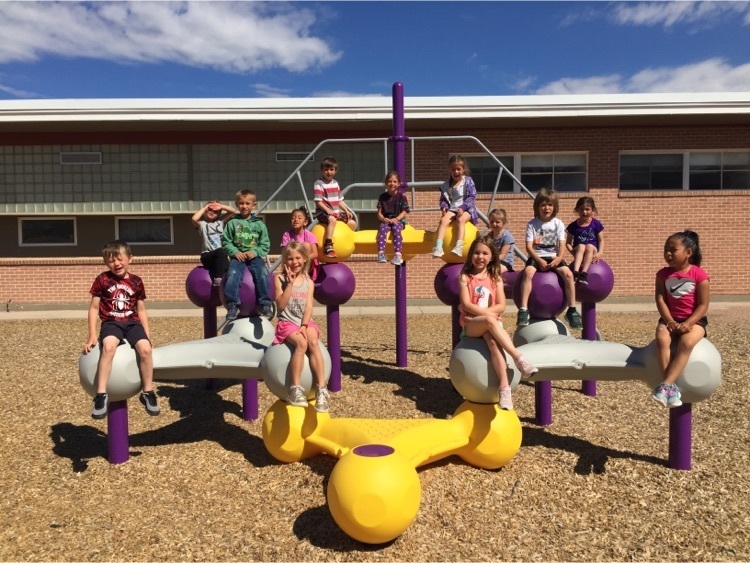 Are you a JHS Alumni that is currently enrolled in a post-secondary educational program? The Julesburg High School Alumni is offering a new scholarship!! If you are interested in applying please request an application at
julesburgalumni@gmail.com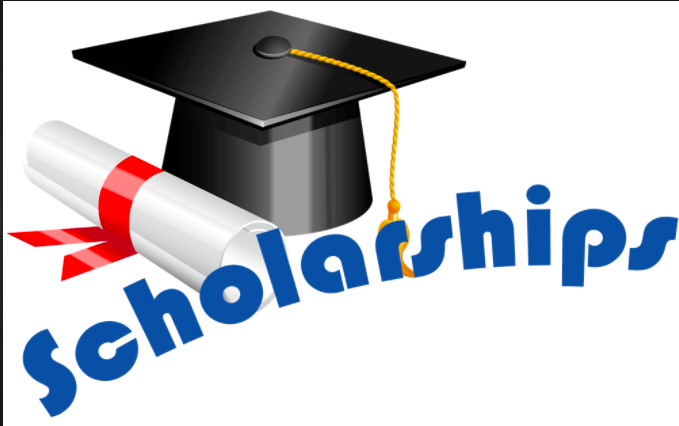 The Julesburg School District Grant Application Rank #5 out of the 42 Grant Application submissions and is being recommended to the State Board of Education to be funded. Our voters passed the matching fund bond in the November 2020 election, so we are fully funded and have all the funding necessary to build our new school with a tentative New School opening date of August, 2023. A BIG thank you to our community for passing the bond to provide the necessary matching funds and to the numerous students, staff and community members that have been actively involved in this effort for nearly 3 years to build a new school facility that will provide our students, staff and community with a brand new state of the art, safe and secure campus and school facility!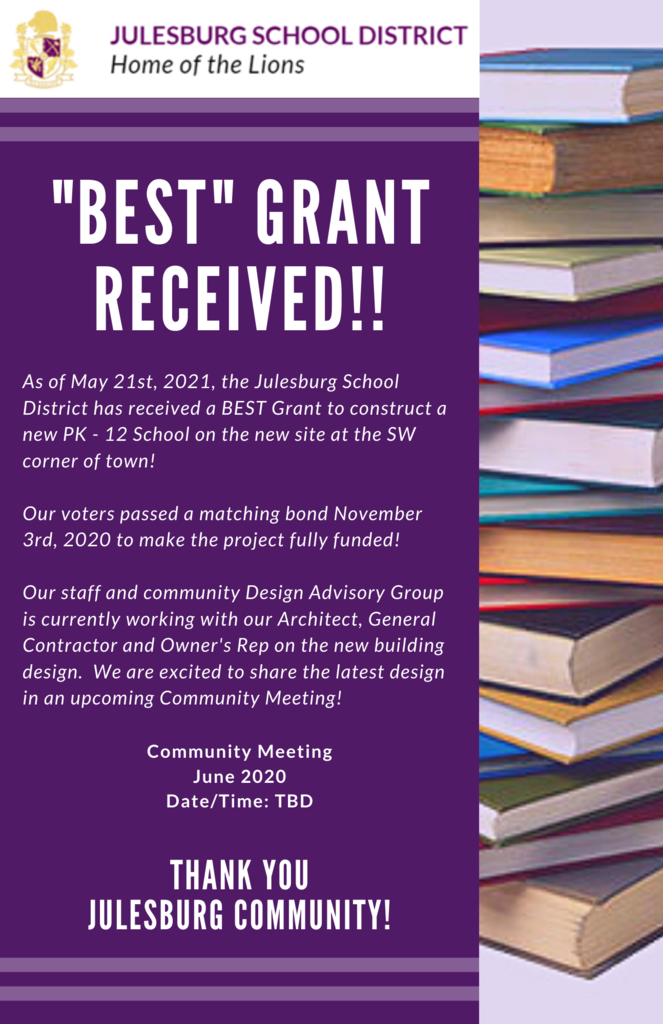 A special thank you to Sherri Brandt from the Natural Resource Conservation District for sponsoring the annual Earth Day Coloring Contest. Mrs. Brandt presented awards to the winners of the coloring contest to students kindergarten through 5th grade.

May 24-29, 2021 Activity Calendar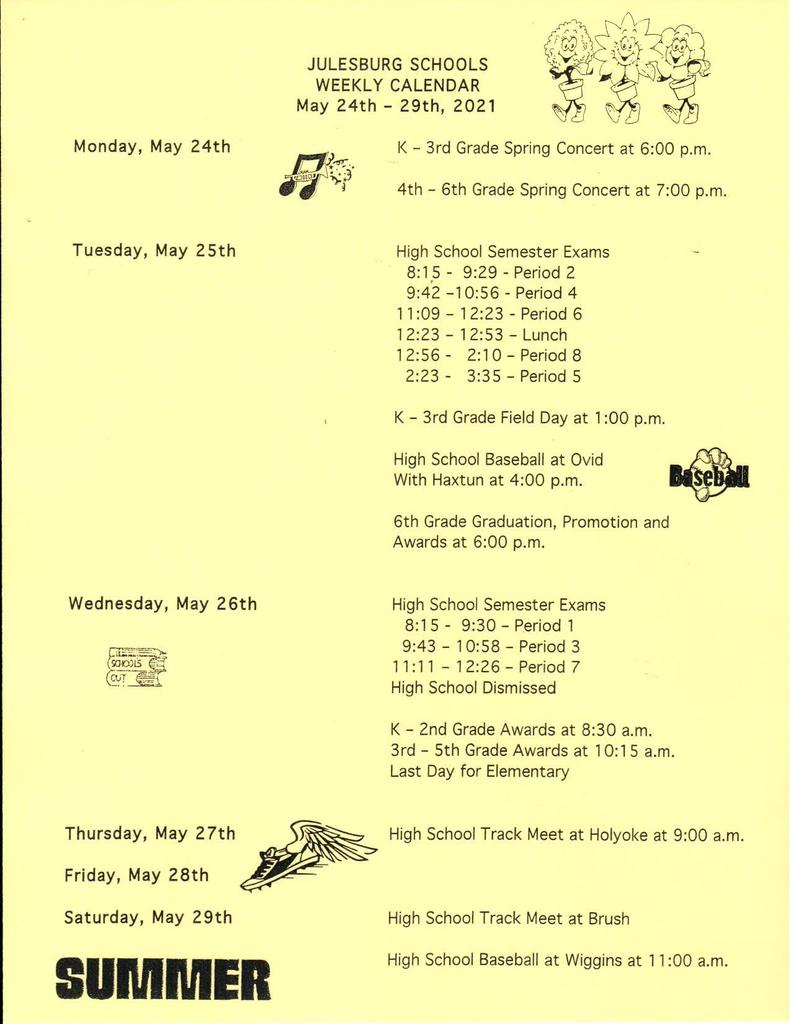 Kindergarten filled their marble jar for good behavior and compliments earned. They chose to have a balloon party. They had a lot of fun!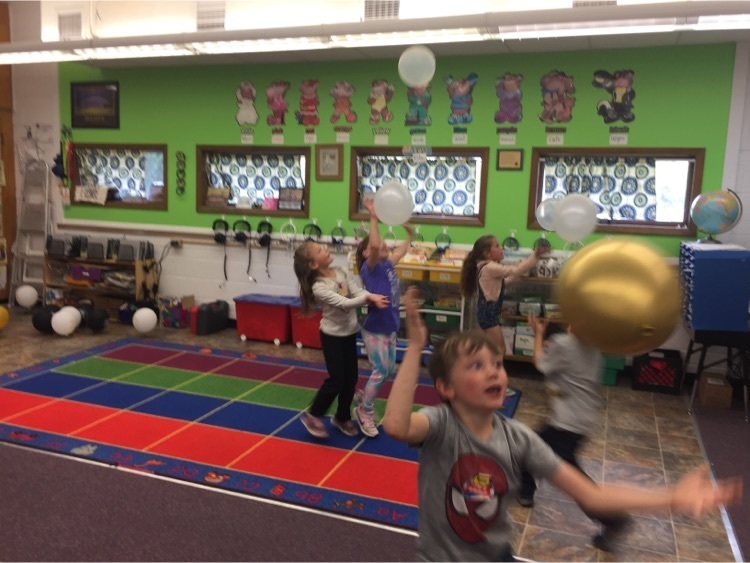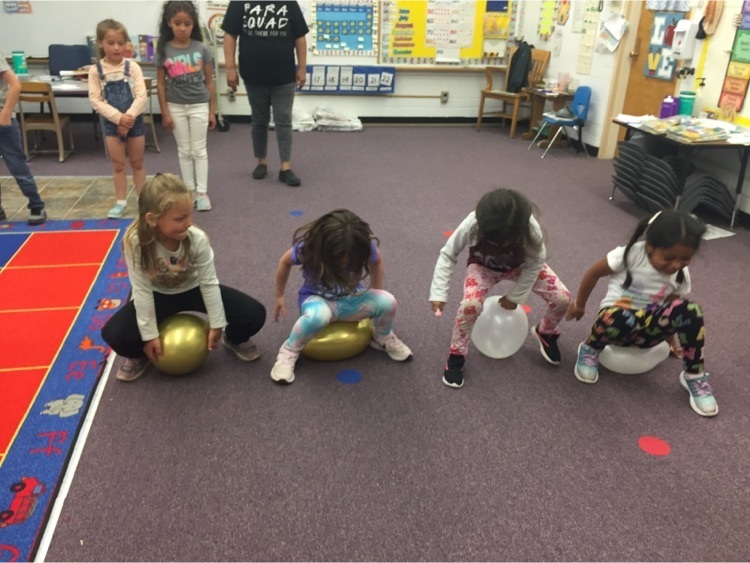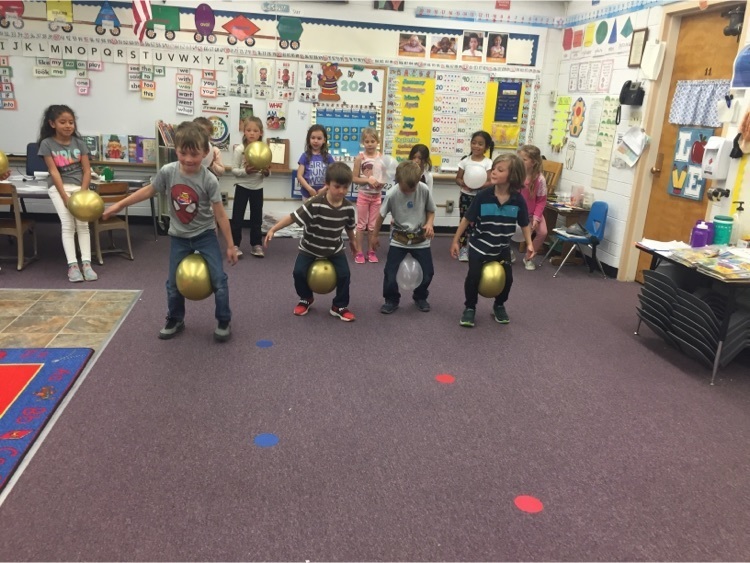 One of the second grade science standards is helping students understand how seeds are spread. In order to do this, the students created an animal from play dough, cardboard, cotton balls, styrofoam, pipe cleaners, etc. They then got to test their "animal" to see if it picked up seeds and carried the seeds. We discussed what they would change about their animal if it didn't pick up the seeds they way they thought it would. The other ways they learned seeds are moved in nature are by wind and water. One student even brought in a floater seed they recognized from the lesson. Great job second grade!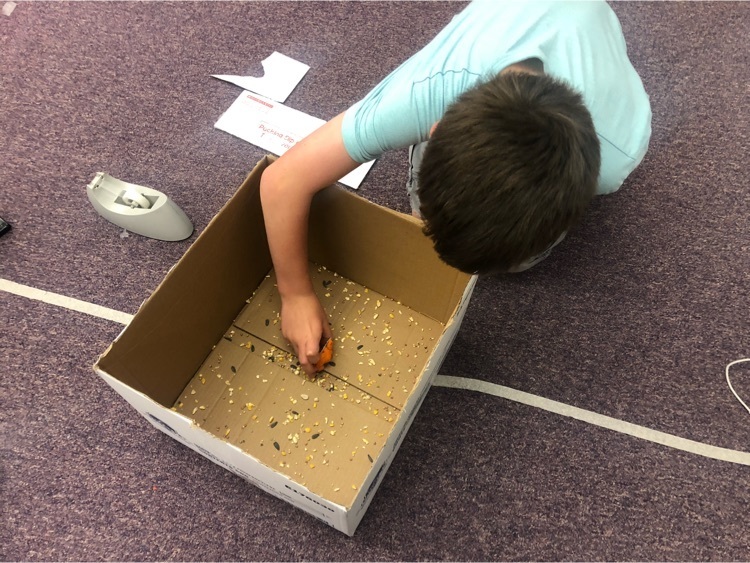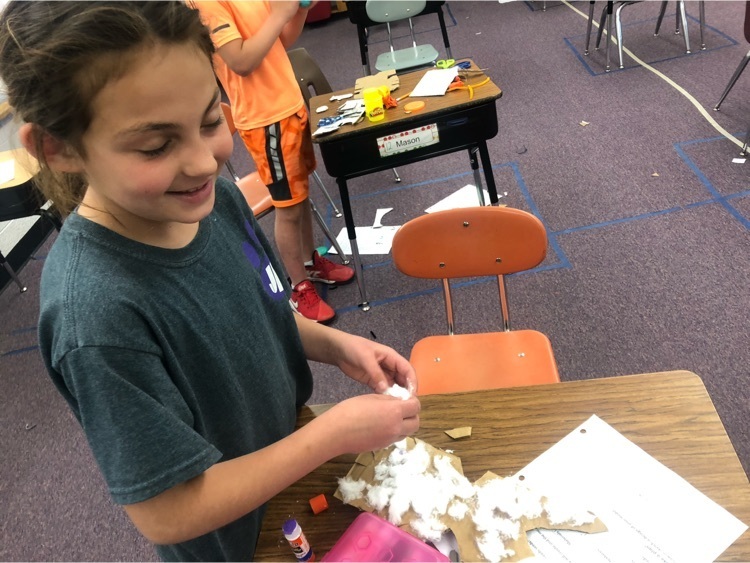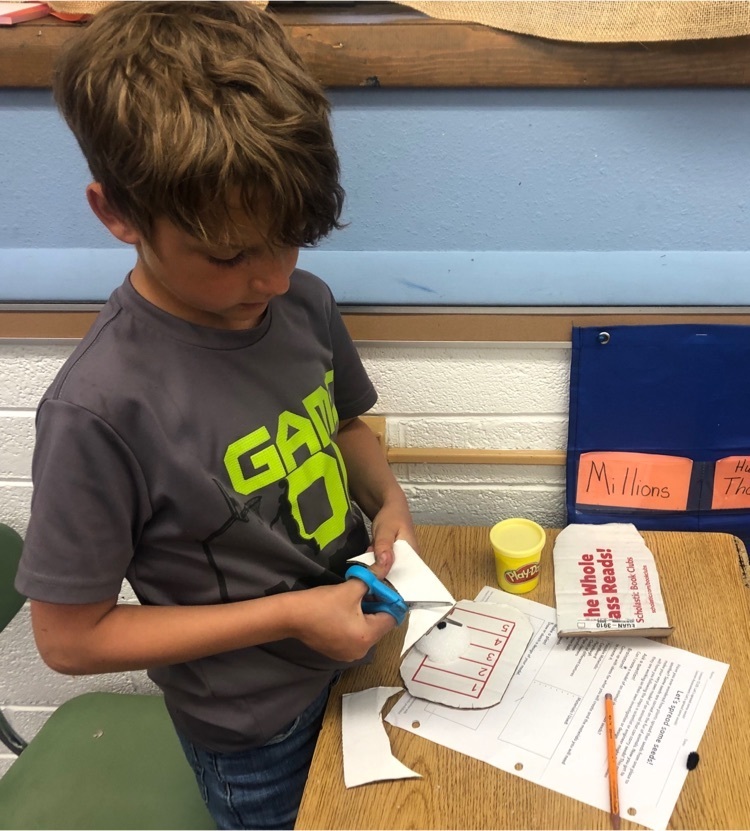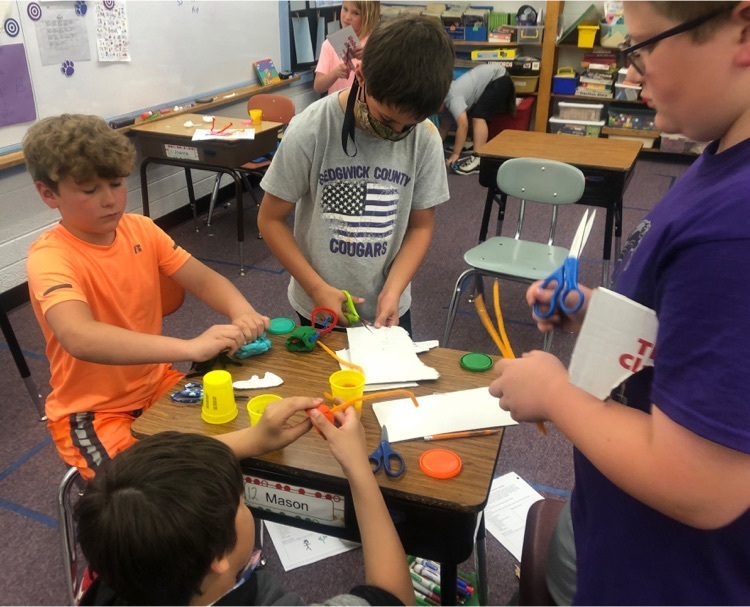 Kindergarten is using their bodies to form letters.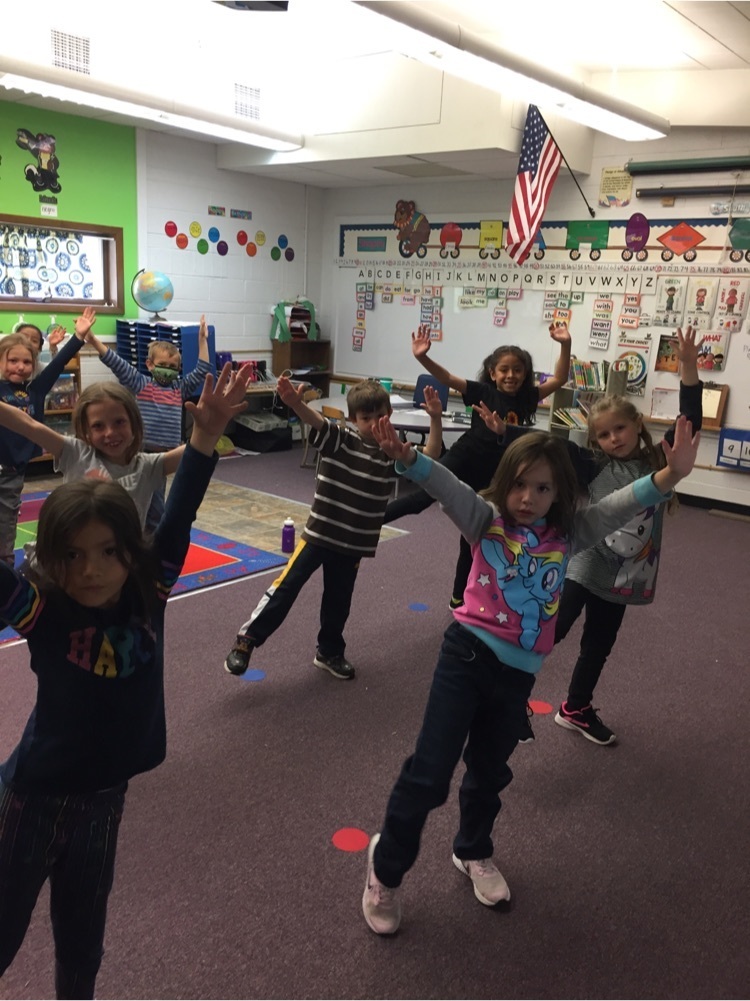 Kindergarten is working on writing complete sentences. We are using the word wall to help us.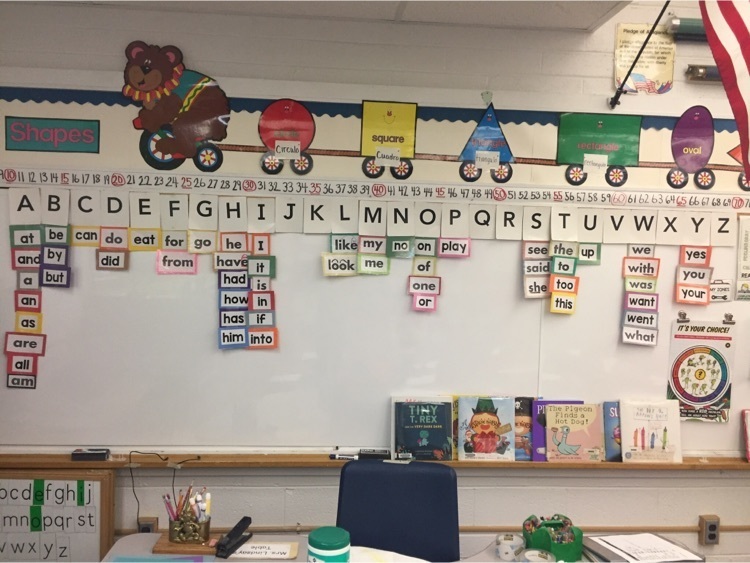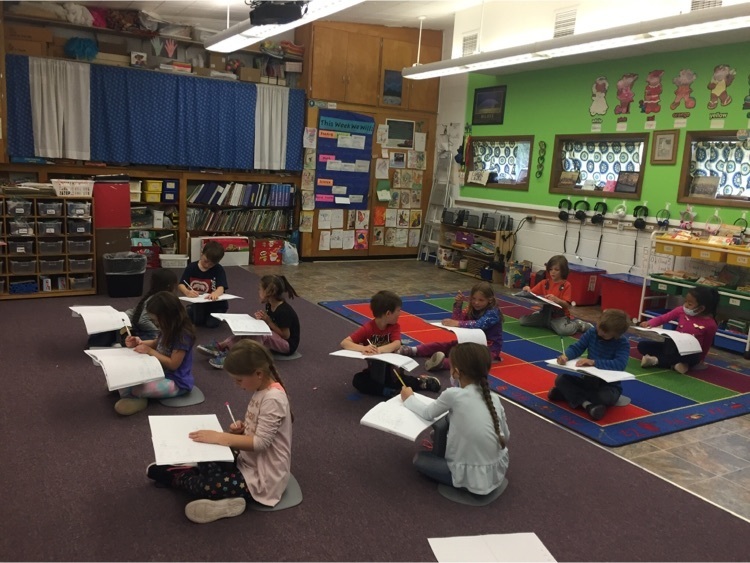 More pictures from our buddy read.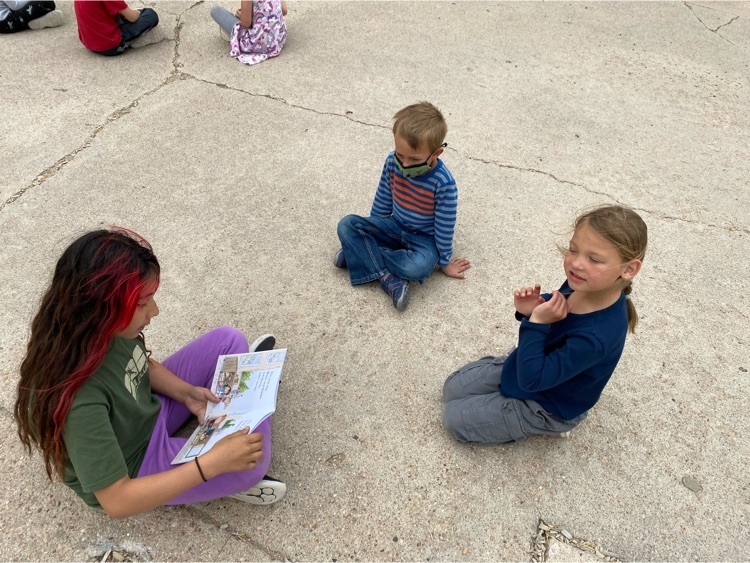 4th grade joined the Kindergartners and 1st graders for a buddy read outside.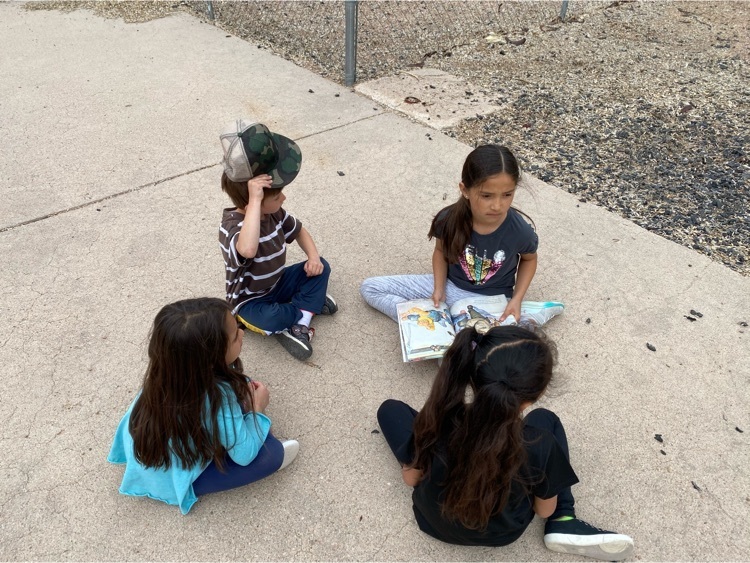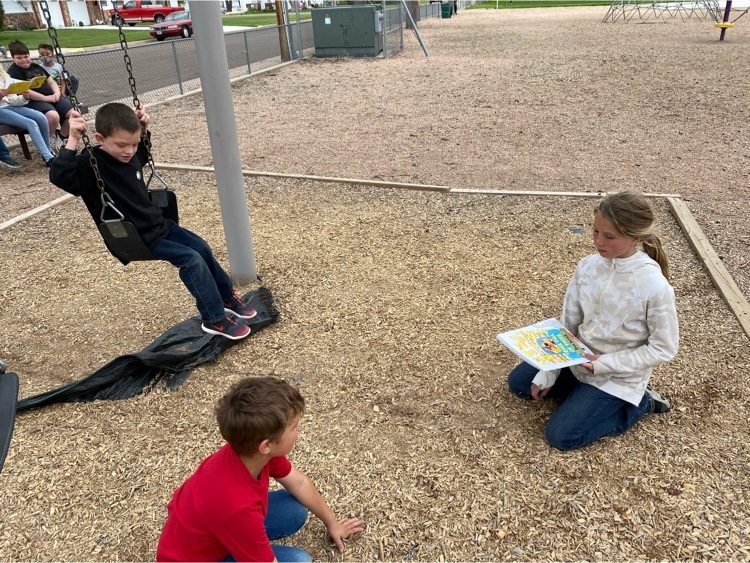 Hello JSD Families! Just a reminder, if you plan to sign up for summer food service and have not signed up yet, please click on the link below no later than Monday, May 17th. We have collected all of the names who have signed up so far. We will begin summer food service on Tuesday, June 1st. Your child's daily breakfast and lunch will be available curb-side at Julesburg Elementary School between 11:30-12:00, Monday through Friday. Any questions? Email Rhonda Palic at
palic_rh@julesburg.org
Link to form:
https://forms.gle/PbzVZdpXdMgS9s8o7

2020-2021 Julesburg Early Education Center Preschool Graduation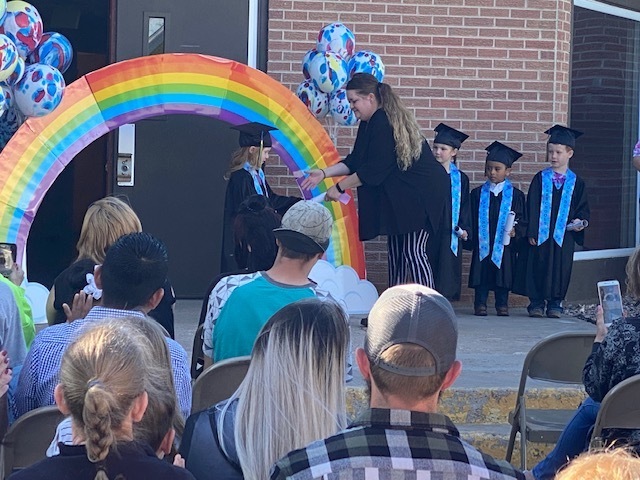 2020-2021 Preschool Graduation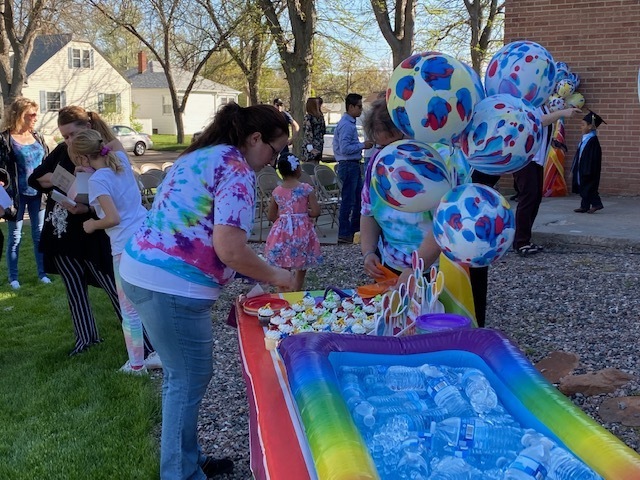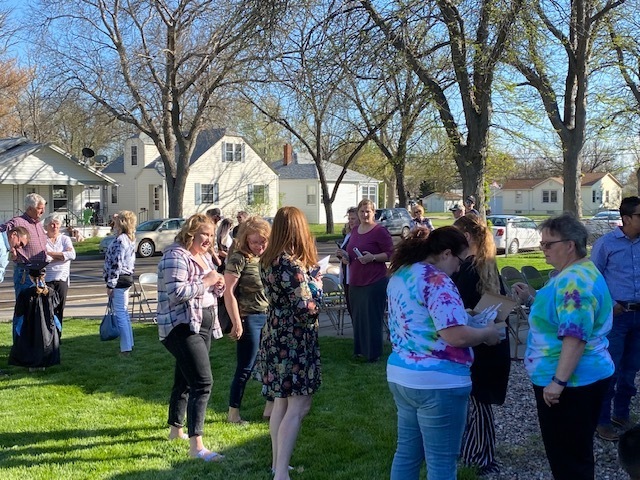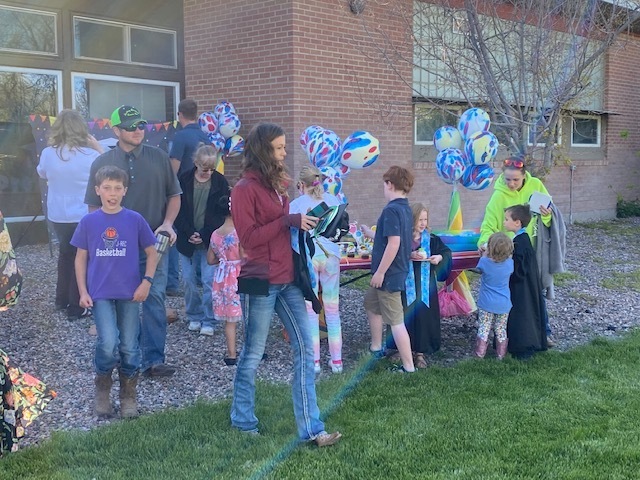 More preschool graduation photos...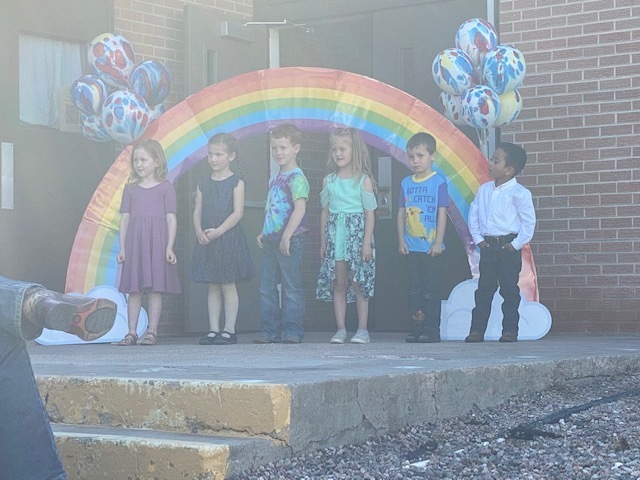 Congratulations to our 2020-2021 Julesburg Early Education Center Preschoolers. What an incredible year we have had and we are excited to promote you to your next journey...kindergarten. We also want to extend our sincerest gratitude to Mrs. Hansen, Ms. Wilson, Ms. Stoneking, and Mrs. Kantor for leading our youngest learners.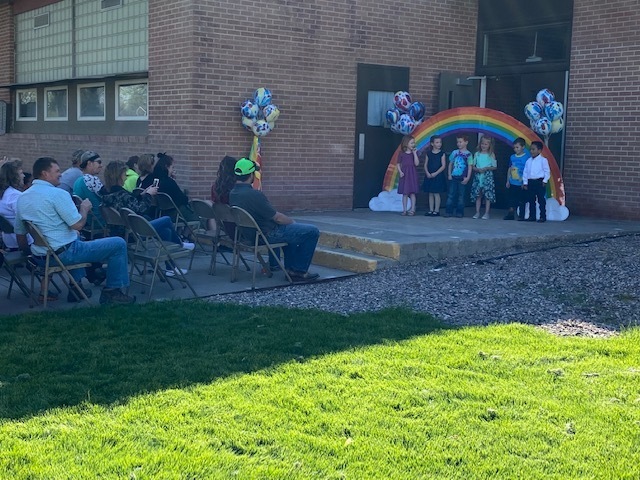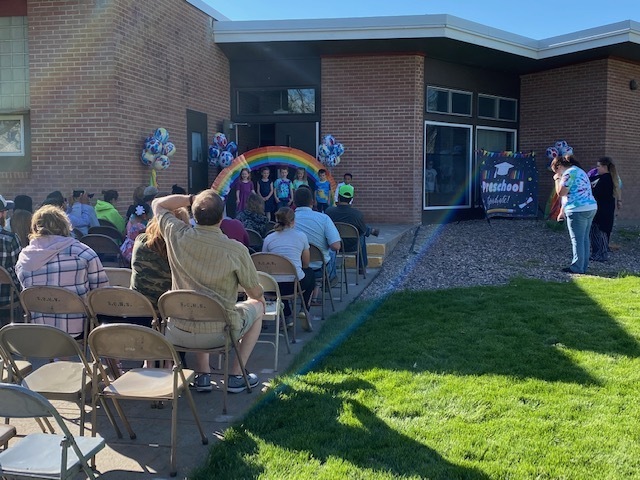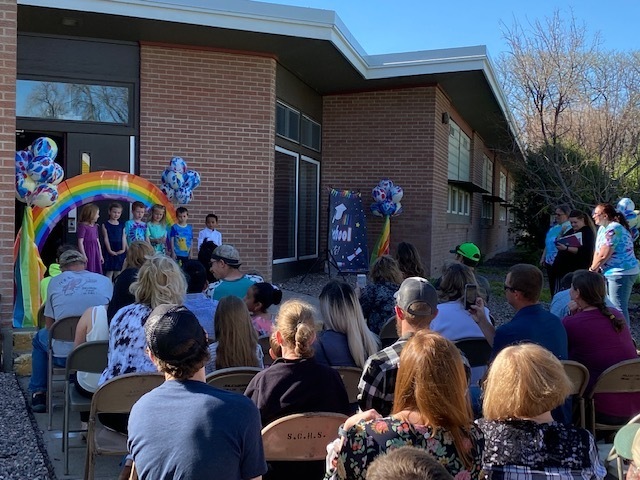 May 16-22, 2021 Activity Calendar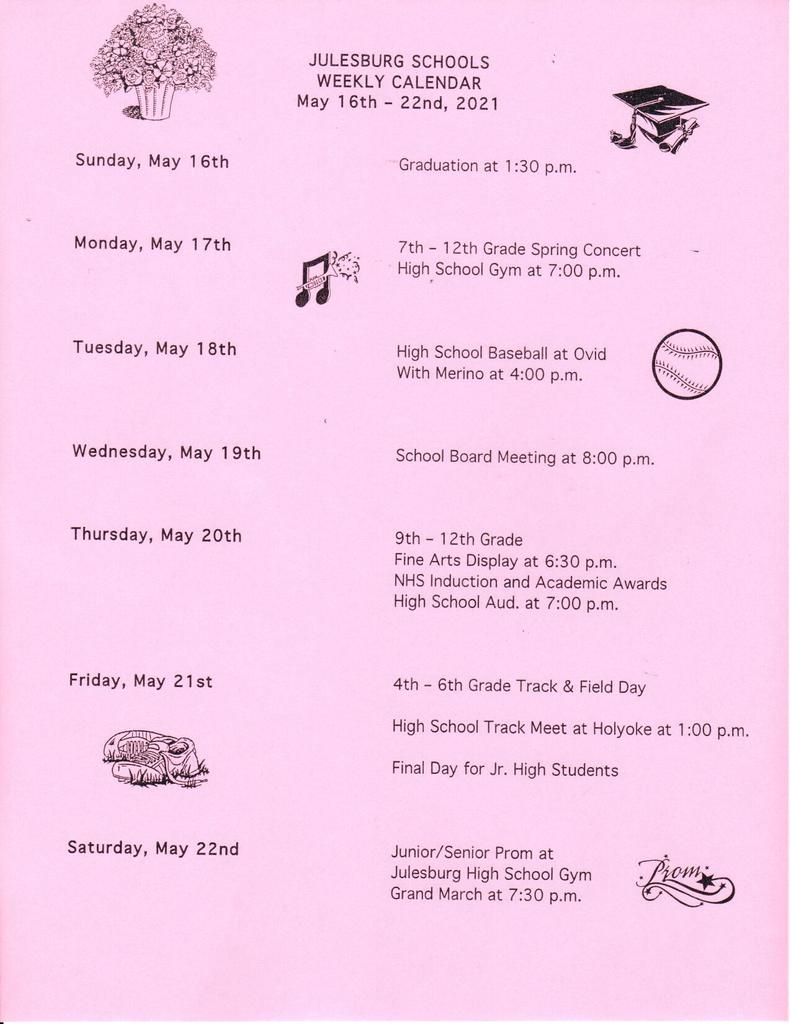 Pep Rally Today @ 11:30 a.m. will be live streamed via our Facebook page! Good Luck to the Lady Cougars in the 2A Volleyball State Tournament! Go Cougars!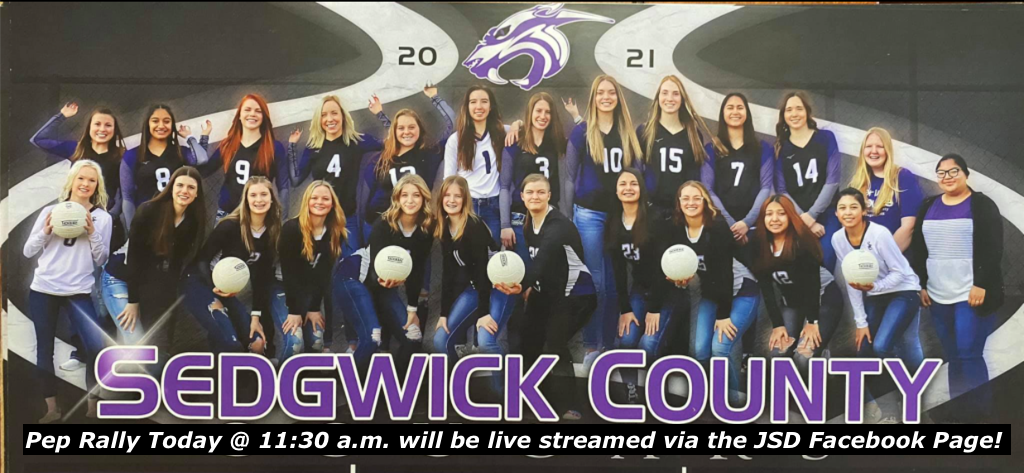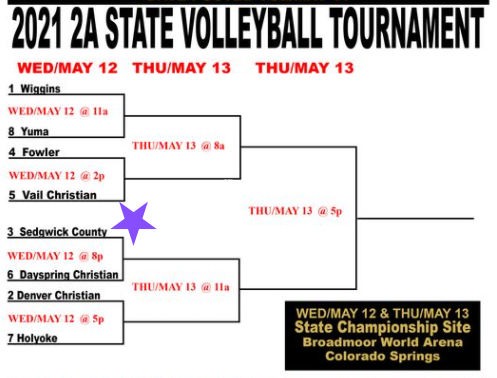 Please join us for the Junior High Academic/Athletic Awards night! Friday, May 14th at 6:30 pm Julesburg High School Auditorium Hope to see you there!