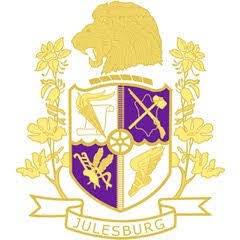 Third Grade has been learning about historical places and events in our reading unit the past couple of weeks. This week's story is Why is the Statue of Liberty Green? Did you know the statue was copper brown when we received it from France? Over time weather created a patina on the statue which is why it is green. We did an experiment to replicate this and turned copper pennies green.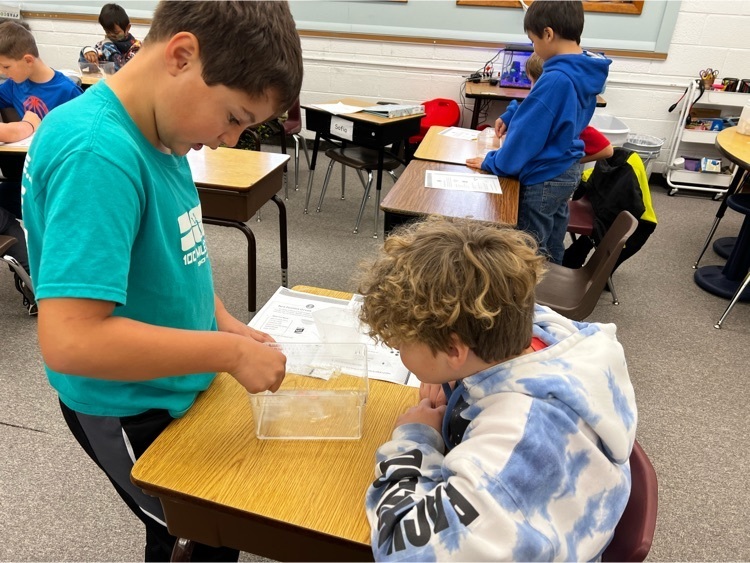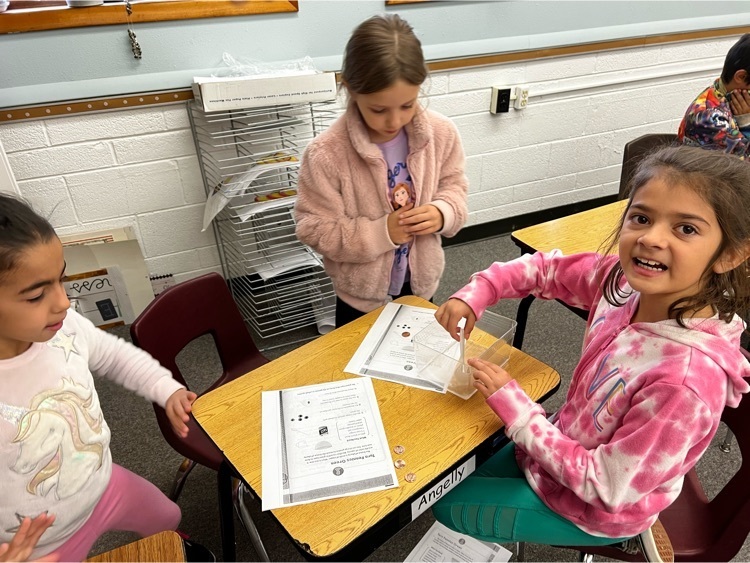 A Mission Trip To Costa Rica Sparked a Love for Teaching By Joseph Beeson As the new school year came around, Julesburg High School hired a plethora of new teachers. I, Joseph Beeson, am a journalism student at JHS and was honored with the task of interviewing Ms. Stephanie Seidl, one of the primary school teachers. She teaches the 6th grade class and is super excited to be able to impact their lives. Ms. Seidl is from Wisconsin and she likes to joke about it because she has a pretty noticeable accent. She is very fond of sports such as baseball and college football. She has a goal of visiting all of the famous baseball fields in America. Another hobby of Ms. Seidl is growing plants such as sunflowers. She also loves to travel, and has traveled to places such as Canada, Mexico, and Costa Rica. She enjoys road trips but not big international travels. On a mission trip in Costa Rica with her youth group one summer, Ms. Seidl found her passion to teach. Ms. Seidl and her peers helped kids at a school there with reviewing for their test and helped teach them English. When she was there she didn't think the trip would have such a big impact on her but when she went back to college she had a feeling that she needed to be a teacher. After becoming a teacher and teaching for a couple years at a different school, Ms. Seidl was looking for a new job and someone she knew contacted her about a job opportunity in Julesburg. They told her about how it's a small community and how everyone knows everyone, and she liked that. So she took the chance and decided to apply. Throughout years of teaching, Ms. Seidl has gained much experience and many memories. As a teacher, one of her favorite moments is when a kid has an "aha'' moment. When they light up and finally understand, it is a sight that she loves to see. Focusing on her students' strengths is part of her philosophy. She focuses on helping them find their strengths and perfecting them. Ms. Seidl works hard everyday to help students succeed and teach them new things. All of that hard work comes with a lot of responsibility and grading to do. One thing that I really liked was when Ms. Seidl talked about her desk. "My desk is a hot mess... it's like my bedroom as a kid, I was very messy but I knew 'oh that thing is underneath all of this stuff.' But it ebbs and flows, there are days that it's really nice and clean and then other days where it's like, I hope I can find where I put this." Before becoming an amazing and very helpful teacher, Ms. Seidl wanted to be an architect. She aspired to build and design houses; to make homes for a living. Thank goodness she didn't, though, because who knows where we would be without her. So beyond her messy desk and funny accent, we're grateful to have Ms. Seidl here. She's already a big part of the primary school and the teaching process that happens there. Thank you Ms. Seidl for all that you do!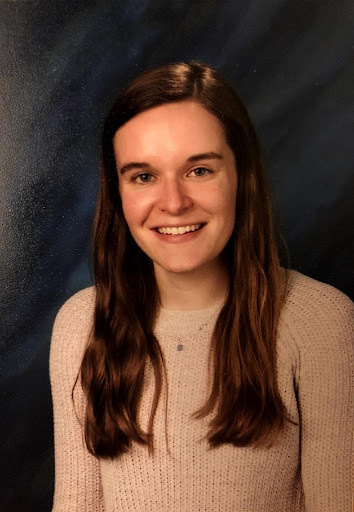 Meeting Ms. Keli By: Torrance Black I'm a student at Julesburg High School, and my name is Torrance Black. I'm in journalism and I got the amazing opportunity to interview Keli Houschouer. Ms. Keli is a teacher at Julesburg Elementary. Keli is her first name, and the students call her Ms. Keli since there is another teacher with the same last name as her, and this makes it easier for the kids to know who's who. She is an outgoing person and absolutely loves teaching kids! Ms. Keli grew up in Sterling, Colorado and graduated from Sterling High School. She and her husband Chris moved to Julesburg, although her husband is initially from Julesburg. They have been living here for about eleven years now. Ms. Keli never thought of becoming a teacher when she was younger. She wanted to be a photojournalist but that didn't work out, so then she went to school for cosmetology and kept her license up. She also managed a restaurant and went on to work for the Department of Corrections. Ms. Keli used to work at the Sterling Colorado Prison and she says, "Driving there and back every day wasn't something I looked forward to doing, so I got into looking for a job closer, and found out there was a para position at the elementary school, so I applied." She's never worked somewhere like a school, so it was definitely a change. One of her co-workers told her that she should go back to school to get her degree for teaching. She finally decided to do so, and earned her degree online through Colorado Christain University. Ms. Keli shared with me some of the hard parts about becoming a teacher, and also some of her favorite parts about being a teacher. Ms.Keli's hardest parts about teaching are staying ahead of her plans. Ms. Keli said, "There are certainly challenging days but there is always a new day. I like to say it could be worse but it could be better." Some of her favorite parts of teaching are being around the kids. She absolutely loves kids, and loves being able to help her students. I asked her what her teacher philosophy was and she answered with "I believe that every student can learn when given the right opportunity and environment." As a student, that mindset from teachers makes us students feel good about ourselves, and makes us want to work harder. Although being a teacher can be challenging and takes a lot out of you, Ms. Keli definitely thinks it's worth it. She absolutely loves her job and wouldn't trade it for the world. Keep up the good work Ms. Keli, and we want to thank you for becoming part of our school community!


Week of November 22nd-26th JSD Food Service Menus...

The second graders made postcards as part of their performance assessment to wrap up the Ancient Greece unit. They had to choose a subject and tell three facts or more about it. The writing was in letter form with a picture to match their writing on the front. They all would hardly even let me keep them to grade them! They are very excited to share them with their parents.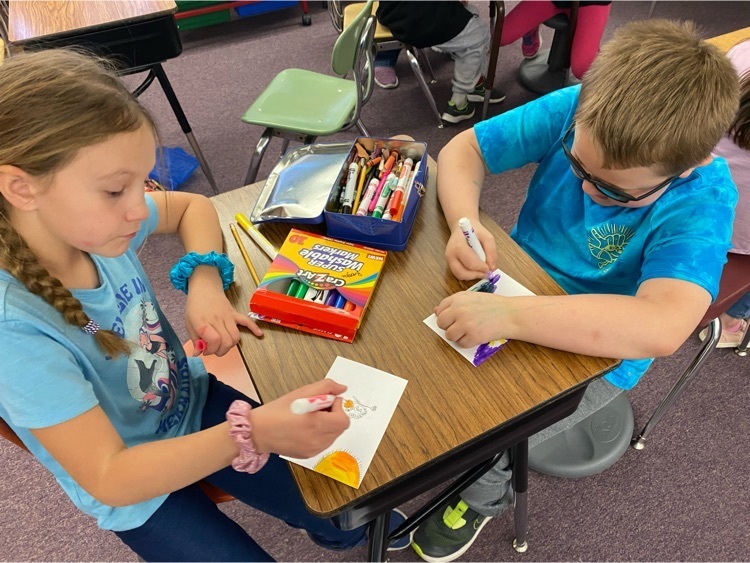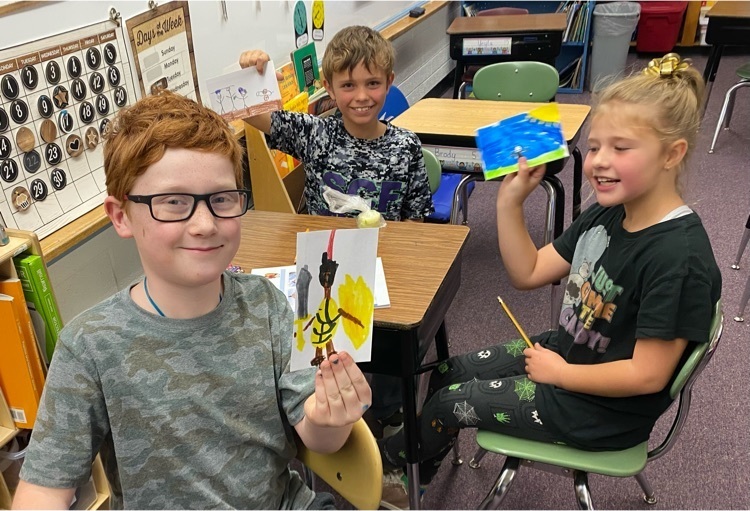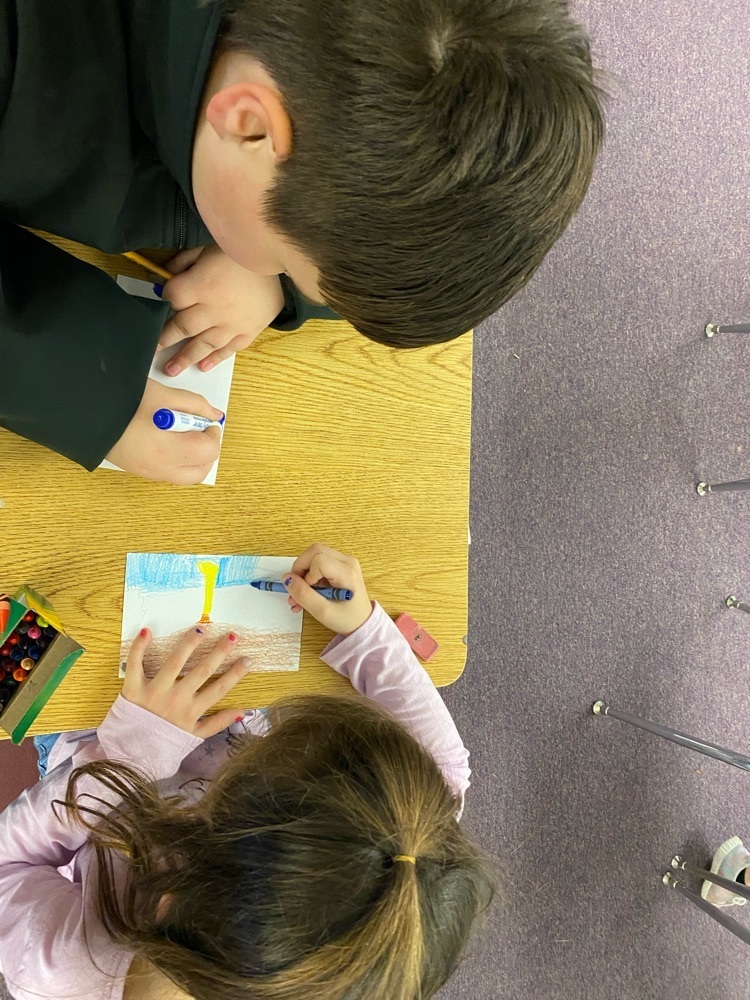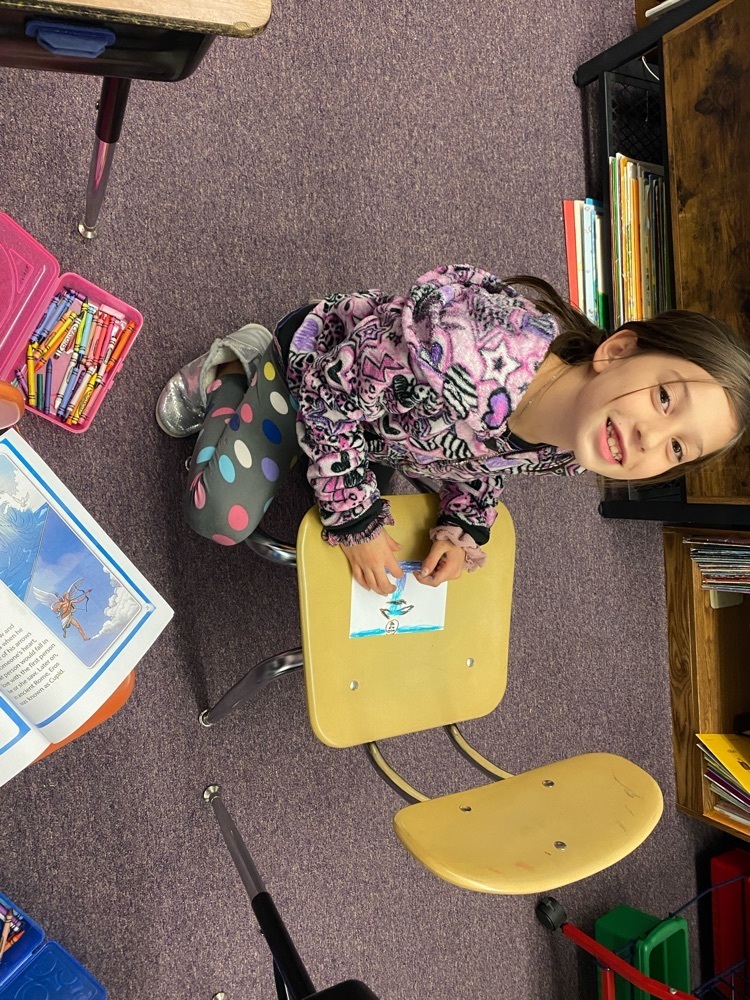 Mrs. Wilber: A Teacher Who Loves Children By: Luis Gonzales As a journalism student, I had the honor of interviewing one of Julesburg Elementary's new teachers, Mrs. Marilyn Wilber. She is the new 5th grade teacher, but she has actually been working with the Julesburg School District for the last 20 years. Mrs. Wilber also went to school here in Julesburg along with a good majority of her family. Her three sons, Korbyn, Bryce, and Devin, also went to and graduated from Julesburg High School. Some of Mrs. Wilber's life ambitions include watching children grow, develop, and being a mother. Mrs. Wilber saw early on how happy educating her own children made them, so she decided to spread the happiness to other children by becoming a teacher. One of the best things about teaching for Mrs. Wilber is the kids. She explains that she loves: "To watch kids grow and see that they're happy. I think I've already seen that. My son values education. That was one of my biggest things. I wanted my children to value education and to make the most out of the education that they received, and to see that I can have that same effect on students." I think this is amazing because it shows how devoted she is to furthering the education of Julesburg High School's students. When asked about the organization of her desk, I learned that Mrs. Wilber is actually left-handed which came as a shock to me. All her papers have to be organized to the left of her desk so that when the stack of papers is gone she has entered all the grades into the gradebook. As a young girl, Mrs. Wilber wanted to be a nurse and worked as a nurse for a few years and an EMT for a few as well. I asked Mrs. Wilber if she did any extracurricular activities during school and she said no. She started working at the age of thirteen and has been working every day since. To me, this shows that Mrs. Wilber is a very hard working person. When asked about the worst part of teaching Mrs. Wilber said that going home was the worst part because she enjoyed teaching children so much. When I asked her what the best part of her job was, she told me it is "the kids. I am all about students, I am all about kids." To me, this proves that Julesburg has made all the right decisions in hiring teachers.
Ms. Auernhamer: Spreading Smiles and Positivity Throughout the 4th Grade By: William Jacobs Recently I had the amazing opportunity to interview Ms. Auernhamer, the new 4th Grade Teacher and Junior High Volleyball Coach at Julesburg. This is her first year teaching in Julesburg and so far she has been really enjoying it. Teaching has been Ms. Auernhamer's passion for a long time. Education has always been a big part of her life seeing as her mom and aunt were both teachers. Growing up she knew that she wanted to be a teacher. She said: "I have wanted to be a teacher since I was little. I remember playing school when I was in elementary school, and I was always a teacher." Before she started working here, she was a para and special education teacher. She enjoyed her previous job but wanted to have her own classroom. Ms. Auernhamer teaches 4th grade. She says that the best part about it is "knowing that [the students] are excited to see you every day, even though if they had a bad day before or if they had a bad morning, they're just excited to be in the classroom." She likes knowing that she gets to leave a positive impact on the students. Her teaching philosophy is that "I just want every kid to feel like they have a safe place and that they are included in the classroom. And if I can make that happen, then their academics will come with that." When asked about the bad parts of teaching she said that figuring out how to grade students and making plans during her short planning period are the hardest part. Ms. Auernhamer has other interests in life, too. She has a childhood cancer awareness fundraiser that she has been running for the past 11 and a half years. She said that "it's getting bigger every year so that's really exciting so I'm really hoping to keep that going and raise money for them." Besides her fundraiser Ms.Auernhamer also likes to play sports, go on hikes, and to go running. When asked about Julesburg she said she wasn't quite used to how small Julesburg is. She grew up in Longmont, Colorado with a graduating class of around 375 other students. She said it's hard to believe that her 19 fourth graders are that year's entire class. When asked why she chose Julesburg, she said that she always wanted to teach in a smaller town. She liked the community and when she talked to the principal everything felt right. She actually ended up moving here a year earlier than expected. Ms. Auernhamer was fun to interview and I hope to talk to her again in the future. I wish her the best of luck in her teaching career and hope she enjoys it here in Julesburg. Thank you for reading about one of our district's newest teachers.

More Family Night Photos...Mancala, Writer's Workshop, Sandwich Swap and Tinikling Sticks!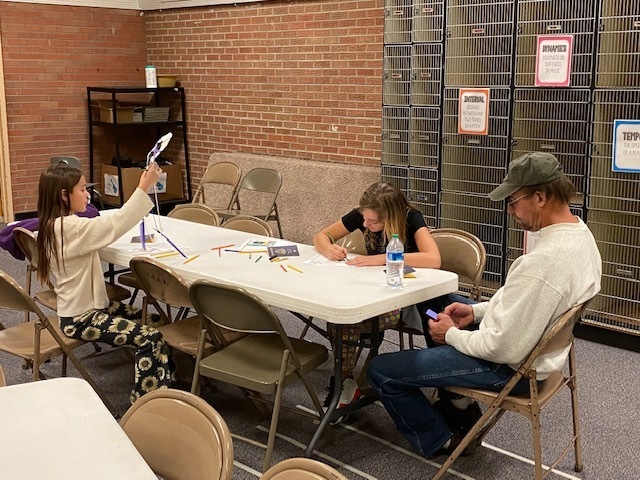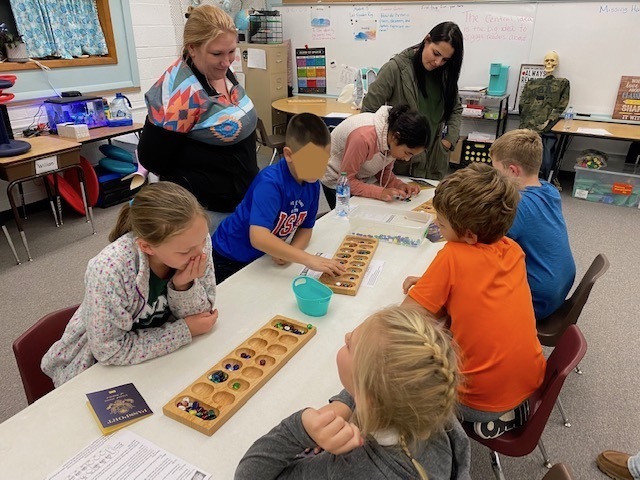 Thank you to all of our families and staff for a great family night. Also, thank you to our guest Author, Luann Koester for sharing her wonderful story. We would also like to send a HUGE shout out to Keith Law and the Julesburg Family Market for another delicious meal!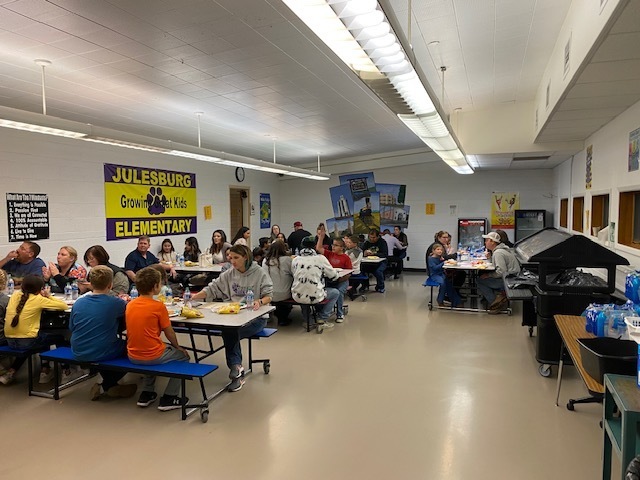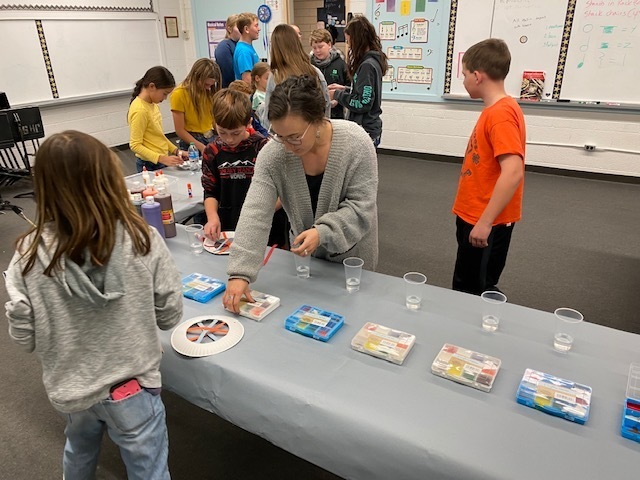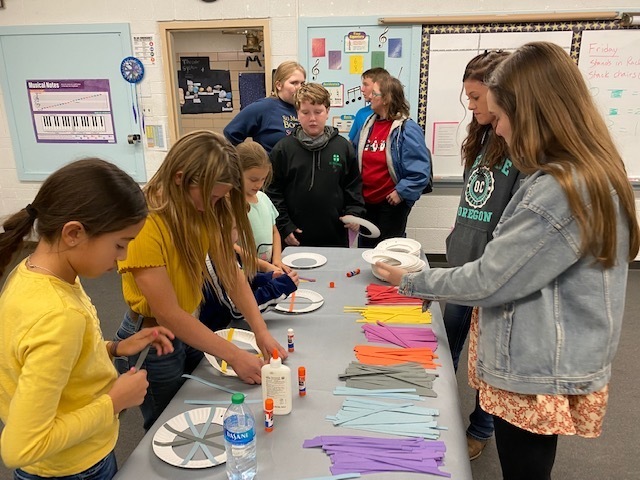 Bringing Hope to Agricultural Education at JHS By: Mc Neal I, Mc Neal, a Julesburg High School journalism student, had the opportunity to interview a new Julesburg High School Agricultural Education teacher. Miss Hope was born in Lamar, Colorado but her hometown is Limon, Colorado. Miss Hope has a few hobbies such as acrylic painting, growing plants, cooking, and baking. Her main hobbies are singing, paddle-boarding and painting. Miss Hope was in a debate club during high school and also did choir along with doing FFA. Miss Hope has come to Julesburg to teach a variety of classes that were previously online for Agriculture. Miss Hope teaches Introduction to Agriculture, Ag Mechanics, Animal Science, Vet Science, Ag Business, 7th-grade Ag, and 8th-grade Careers in Agriculture. Miss Hope previously student-taught in Delta, Colorado. She spent three years in college to learn to teach students and ended up moving to Julesburg with the offer of being an Ag teacher. As Miss Hope has told me: "Through my time in Ag and FFA, I had personally gained a lot of personal development, a lot of leadership, it really changed the trajectory of my life. I was someone who was really shy and was not super involved. But through getting involved in Ag, I was able to find a home and a place where I could succeed. And so for me, I wanted to be a teacher to give that opportunity to kids that I love." Miss Hope had first wanted to be an English teacher in 3rd grade, but during her senior year of high school, she was not so sure that was exactly what she wanted.. So after she graduated high school, she went to CSU and ultimately ended up being an Ag teacher instead. As Miss Hope said: "Something that I like about Ag teaching is there's a lot of community, not only with the students but with other Ag teachers. And so I thought for me, it was a better fit than a school counselor … That's why I chose to be an Ag teacher." Miss Hope didn't expect to end up teaching in Julesburg, Colorado.When I asked her what brought her here, she said: "The reason I ended up in Julesburg was that somebody in my Ag world said that they were looking for a position. I got asked to apply by the Local Teacher Success Coordinator for Colorado Agricultural Education through Ag Education, and reach out to them … To be honest, I had never even been to Julesburg or heard of it before this. I thought I would end up wanting to go to the western slope of Colorado. But because I was asked to apply I decided to do some more research into it … So I'm very grateful that I found myself here but it was kind of by accident." Miss Hope never expected to be in the Northeastern part of Colorado. But that's where she ended up. Miss Hope has ended up enjoying the students and staff of Julesburg High School. Not only that, but has loved our beloved small community. During the interview, I asked Miss Hope what her ambitions were in life. I got the response: "My ambitions for this program, for Ag Education, is to create a place and environment where students can really thrive, connect them to community members, and make this a great organization that enriches the Julesburg Community professionally. I hope to always continue to learn and continue to do what's best for students." Everyone has different ambitions in life. Every teacher's ambitions are unique. I think that Miss Hope is thoughtful towards students and we also enjoy her as a human being, which is only one of the reasons why we are so lucky to learn from her at Julesburg highschool.

Kindergarten read a story called "I am Rene." It was written in both English and Spanish so Mrs. Castillo-Rocha came and read to us in Spanish. We loved having her!! 💜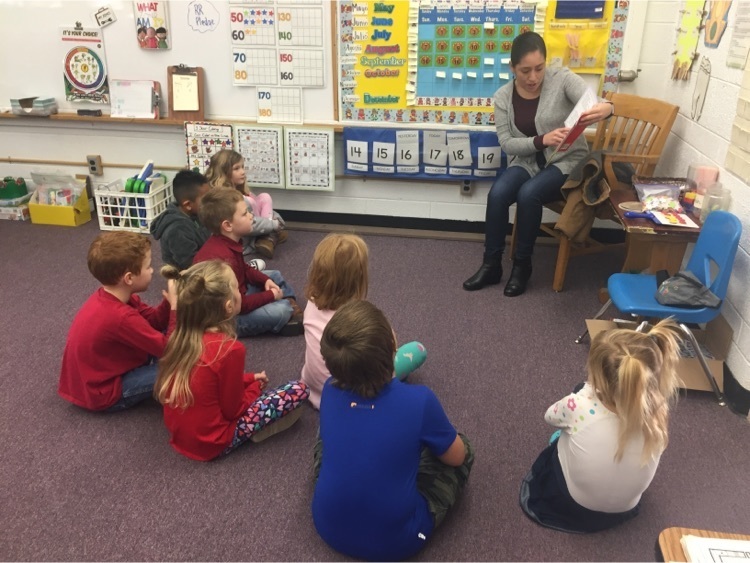 Holyoke Student Turned Julesburg Teacher By: Avery Goddard and Jeidy Villalobos The Julesburg School District has gotten a handful of new teachers and as journalism students, we were lucky enough to be able to interview our new math teacher and Spanish facilitator, Ms. Núñez. She teaches the traditional math classes and as a Spanish facilitator, she is there to help the Spanish students directly if they have any questions. Since she is our teacher for both Spanish and math, it was a fairly comfortable experience for us to interview her. After talking about how our days were going, our interview really got started. Before starting her teaching career in Julesburg, Ms. Núñez lived in Holyoke where she attended school and played some sports. Before she moved to Holyoke, she lived in Mexico where she learned her first language, which is Spanish. This is why she is such a great helper in teaching and assisting us in our Spanish classes. In Mexico, she lived in a big city so she was a city girl. Moving to a small town made her realize how much she liked small towns so she knew she wanted to work in one as well. She saw the position open in Julesburg and said " it's kind of calling me". Growing up, Ms. Núñez was always told by her fellow classmates that she was better at explaining the math they were learning than the teacher was. This gave her the idea that she would probably be a good teacher herself. There was a lot of peer pressure to become a teacher because of this that it just started to feel right. When asked what the best part of teaching is, she stated that it's "the aha moment." This is when the kids finally understand the concept being taught and get that "oh!" look on their faces. This makes Ms. Núñez feel that she is doing her job well and makes both her and the student feel better. The worst part of teaching for her would have to be when she plans for a great lesson and has all these plans that end up not working and she has to change and try again. When asked about the organization of her desk, she laughed and whispered "nonexistent." Mostly everything she needs is nearby but sometimes it's hard to know exactly where something is. She gets through it, though, and at least tries to keep her desk clean. If she wasn't a teacher she would have been a pediatrician. This is because she has always wished to work with kids. She later discovered she couldn't handle blood which is a large part of a pediatrician's job, so that wouldn't work. So if she couldn't work with kids in the medical field, she knew she could at a school. This was a great compromise for her. She got to do what she loves and what she is good at. Ms. Núñez has a great teaching philosophy. It is that everyone brings something different to the table and the classroom. So it is the teacher, aka Ms. Núñez, who has to make sure all those attributes come together in the classroom. Also to be a conversationalist because to help students learn content, they can talk about it to process it. Trying to get off the topic of teaching, she was asked what non-teacher goals she has. Ms. Núñez responded with: "My non-teaching goal in life is to travel again. You don't realize how big the world is, you know." She also informed me that she is a large food lover so getting to see new cultures and new food is a dream come true in her eyes. Although I hope Mr. Nunes gets to live her dream of traveling the world, I hope these travels never take her too far from us for too long because she is such a great addition to the Julesburg school district.
Kindness and Wisdom: Driving Forces for JHS' New English Teacher By: Andrew Welch I am journalism student Andrew Welch and I got to interview Miss Kreienheder. Miss Kreienheder is the new English teacher at Julesburg High School. Most of us call her Miss K because as she says, her name "just has too many letters." I am so glad I got to interview her because I learned lots of things I wouldn't have known otherwise. For example, before moving here, Miss K lived near St. Louis, Missouri. In high school she played soccer but she stopped in college. In college, Miss K "was a radio DJ, which was super fun, and what I consider the coolest thing about myself because I played music on the airwaves. And so that was really fun. And during my time as a radio DJ, I was also a manager at the station, and I was in charge of the entire news team." This fits in perfectly with her role as the journalism teacher here. Miss K always wanted to teach even when she was a child. She told me that a lot of her inspiration to teach came from her aunts and uncle on the East Coast who were all teachers. She said her aunt taught in a small town where students she taught a decade ago would see her in town and say hi. And she said her uncle was the smartest person she's ever known. So when she started thinking about her future job, she said: " I think in my little kid brain, I saw all the kindness and the impact that my aunt had, and I saw the wisdom that my uncle had, and to me, it just made sense that to be anything like them, I could also have the same career." Miss K went to Truman State University for her undergraduate and graduate degrees and then she applied to Julesburg High School on March 23, 2021. Miss K sent in an application and Mr. Renquist called her the very next day. Then she traveled to Julesburg for her interview on April 6, 2021. One of Miss K's biggest ambitions in life is becoming the best teacher she can be, but she also said that "outside of that, I'd love to learn how to rock climb. I have hiked to the top of 13 different fourteeners, so I'd like to increase that number, I'd like to do more backpacking, travel more, and I'd like to get more writing published." Miss K loves teaching and says that the best part of teaching for her is the students: "I don't know that you could do all of the work that is entailed in teaching if you didn't love the students and love getting the opportunity to get to know the youth of America." When I asked her about her teaching philosophy, I also got to learn about her favorite quote. She said: "I don't know if this counts as teaching philosophy, but my favorite quote in the world, which is actually tattooed on me, says that 'you can't make up your mind about history and the rest of the world, unless you stock your mind, stock your mind. It is your house of treasure and nothing in the world can interfere with it.' And maybe that's not a teaching philosophy, but to me what that means is that the education that you are provided and that you seek for yourself is the most valuable thing that you can have in this world. And so when it comes to teaching, it is important to me that students understand all the different aspects of English that I have to teach, but it's also just important to me that they are learning in general, and that they have the skills they need to continue learning when they leave my classroom." I think that Miss Kreienheder was a really fun person to interview. She had a lot of really cool information. If I could, I would interview her again.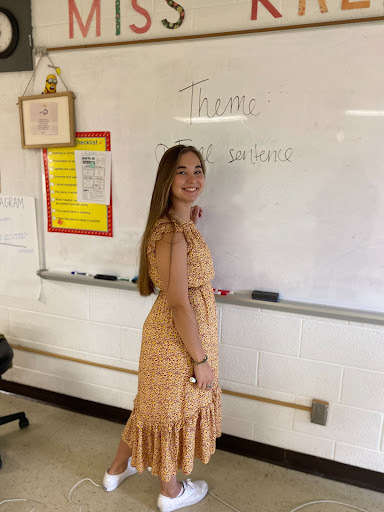 Yearbook/Journalism students were busy last week photographing Julesburg High School events from the Veteran's Day Assembly to the Lady Cougars' games for State Volleyball in Colorado Springs. We can't wait to see the photos they captured!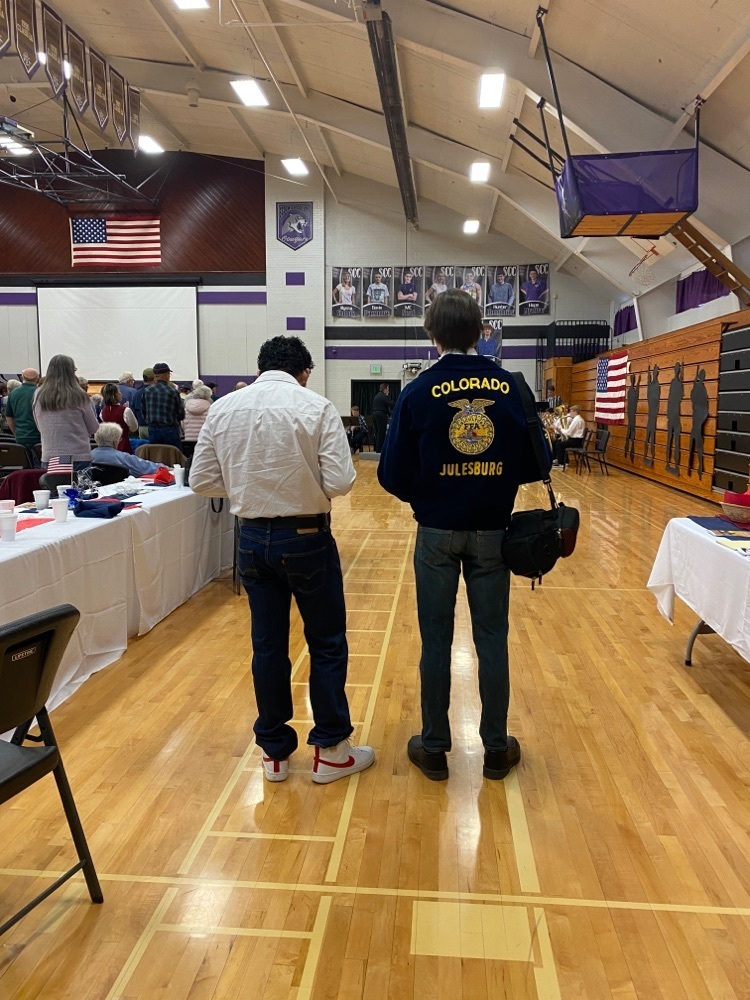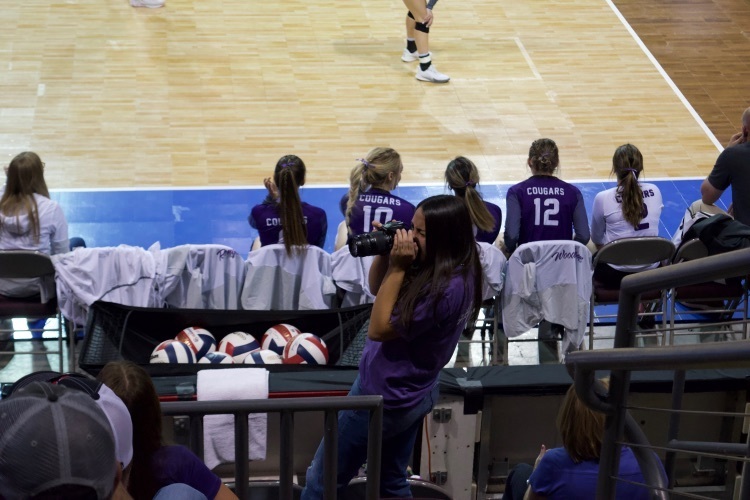 Congratulations to the Class 2A State Volleyball Champions – our very own Sedgwick County Cougars!!!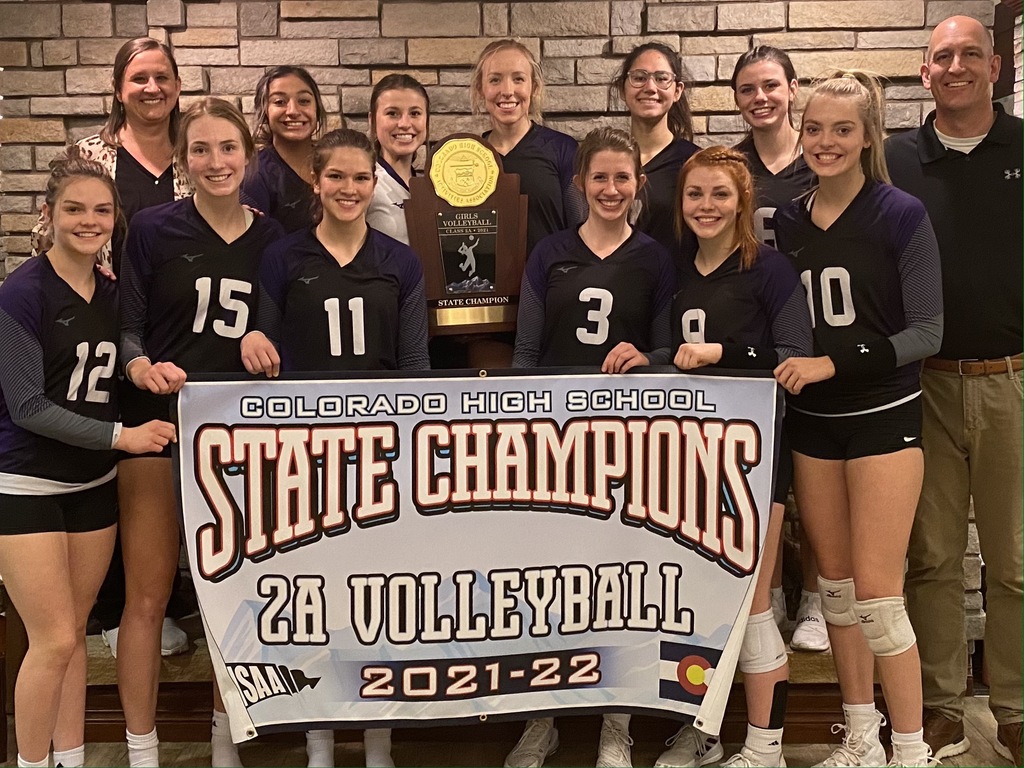 During our "Space, Sun and Moon" science unit preschool is learning about the planets and stars. While learning about the Earth's rotation we explored shadows on the playground using sidewalk chalk.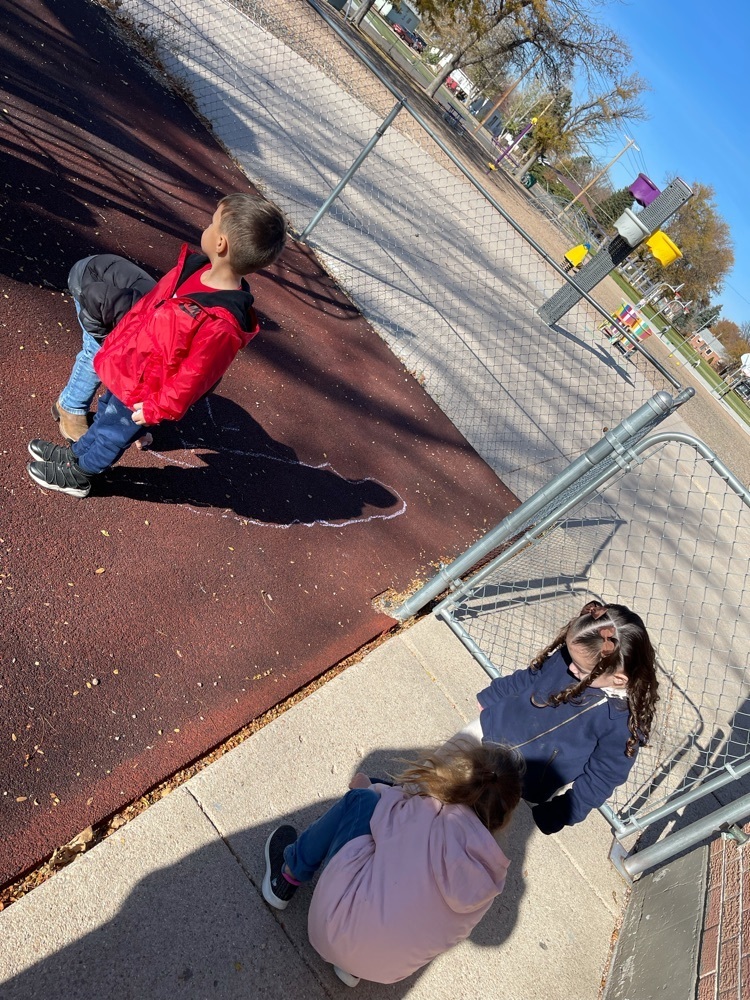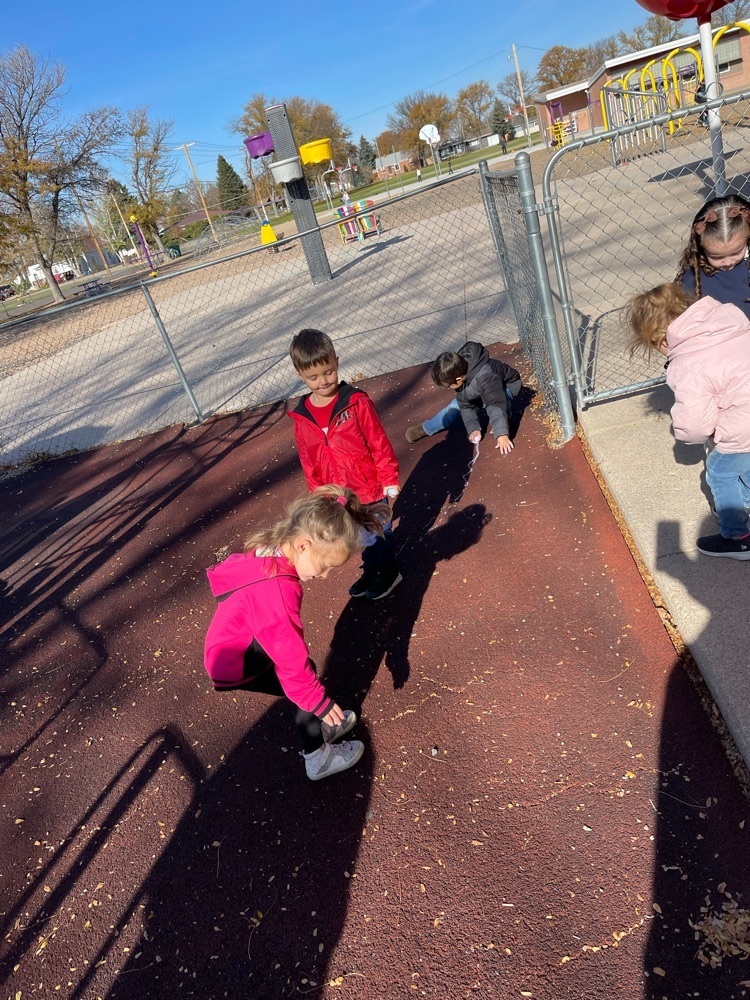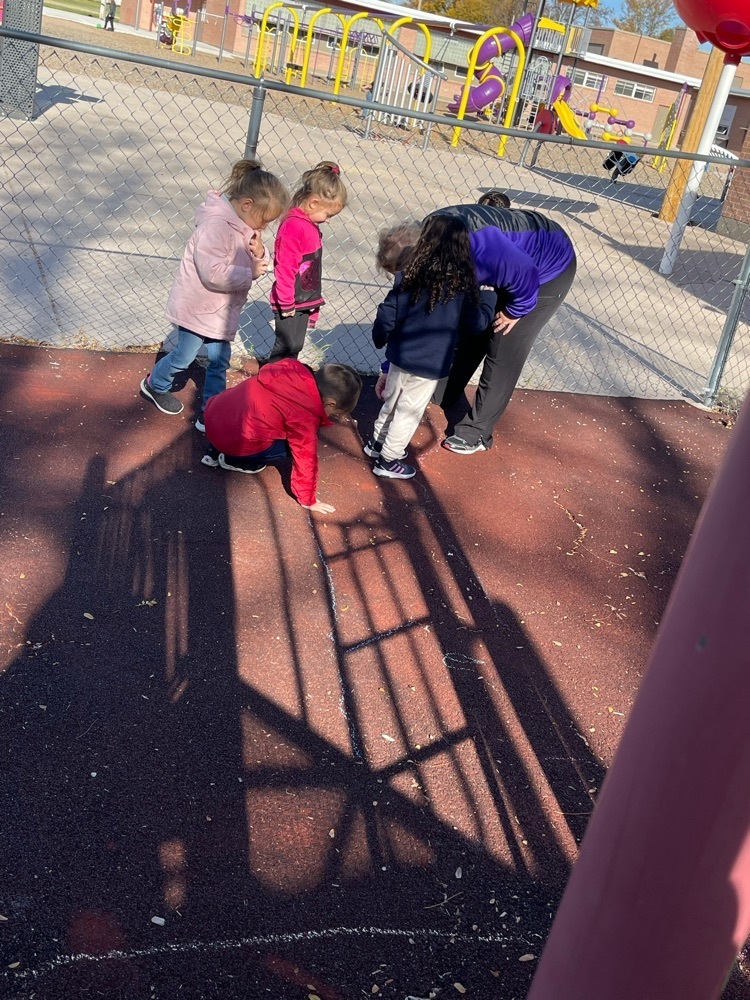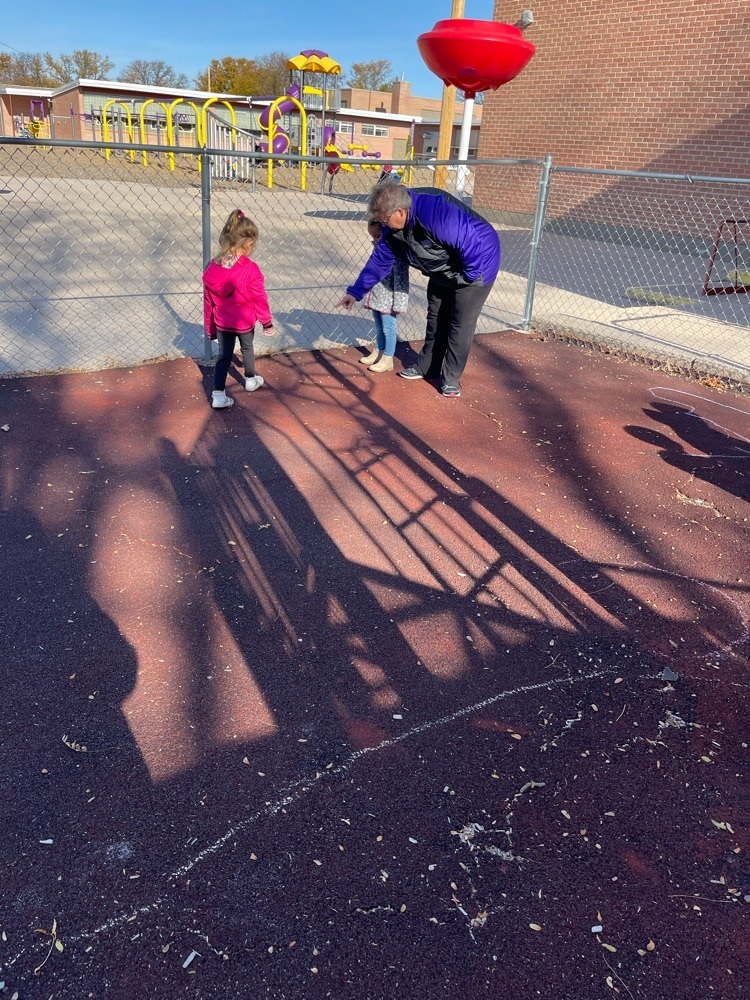 During our "Space, Sun and Moon" science unit preschool is learning about the planets and stars. While learning about the Earth's rotation we explored shadows on the playground using sidewalk chalk.
Third graders are learning to represent division by finding the number of groups or the number in each group with information given in a word problem.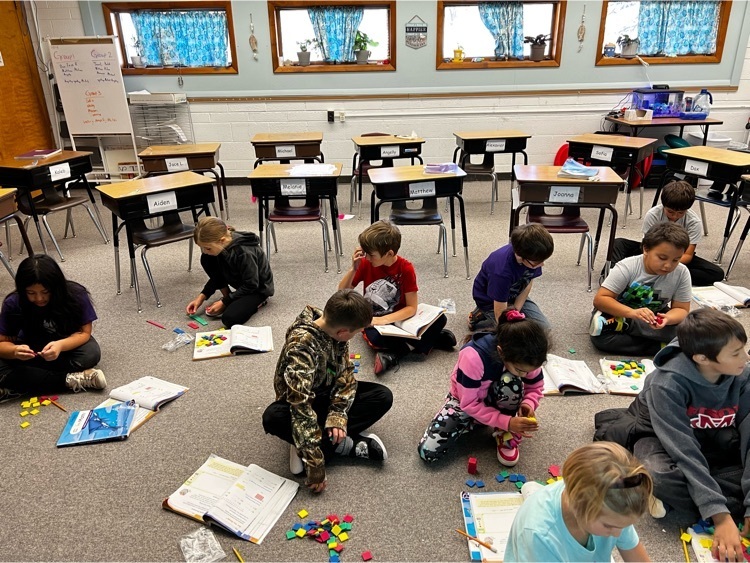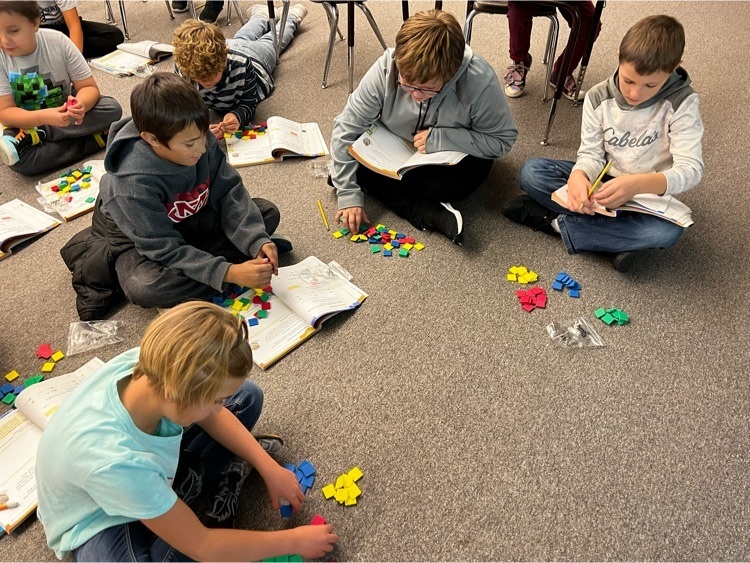 JSD Food Service Menu for the Week of November 15th-19th (Remember, no school on Monday, November 15th):