7th grade students are reading The Hobbit. Over the weekend they read about Gollum's riddles, so on Monday they worked in groups to solve a riddle in the library that led them to candy rings. We can't wait to read about Bilbo's next adventures!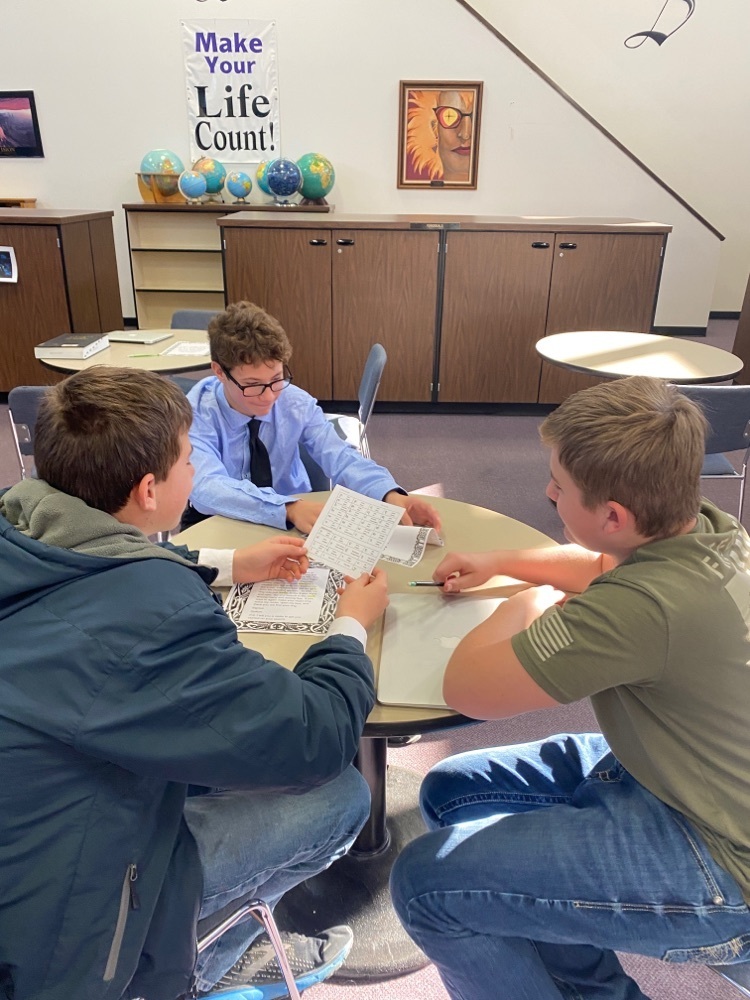 Pre-K makes letters with their body to get some movement in and help them recognize the different letters. We then discuss different words that start with that letter.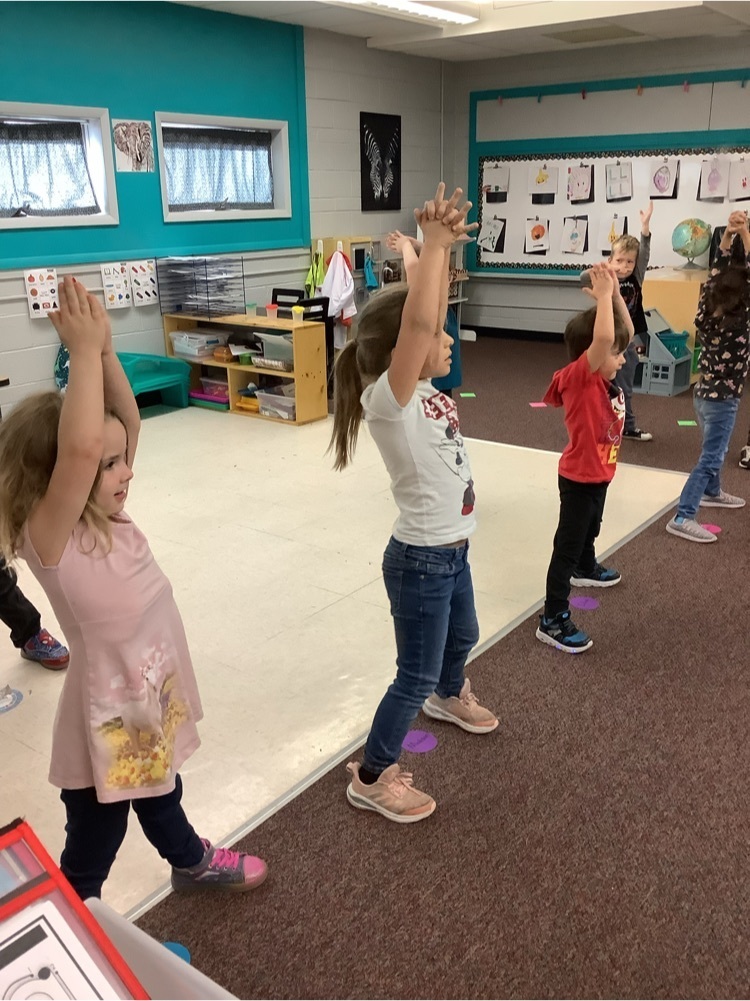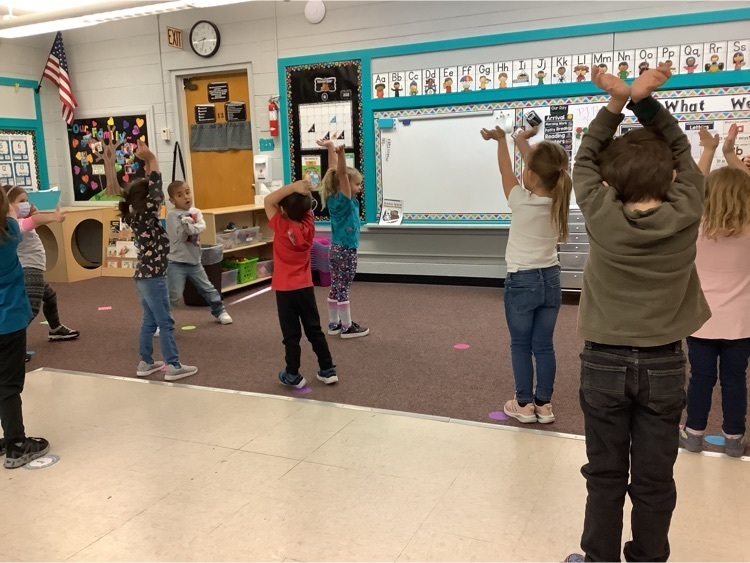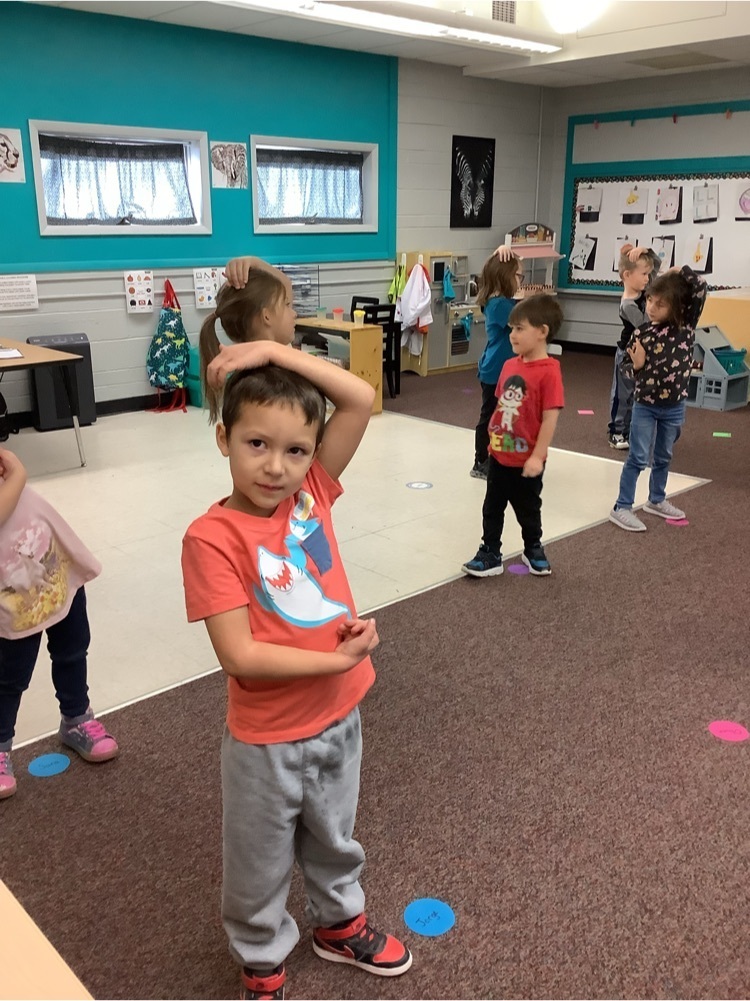 ⚠️SCHEDULE CHANGE⚠️ Please join the Julesburg FFA Chapter tomorrow night (11/30) in the JHS auditorium for our 1st Annual Speaking Night! Speeches start at 6 with desserts provided! Please see the schedule to see when students present as the time changed due to sports schedules.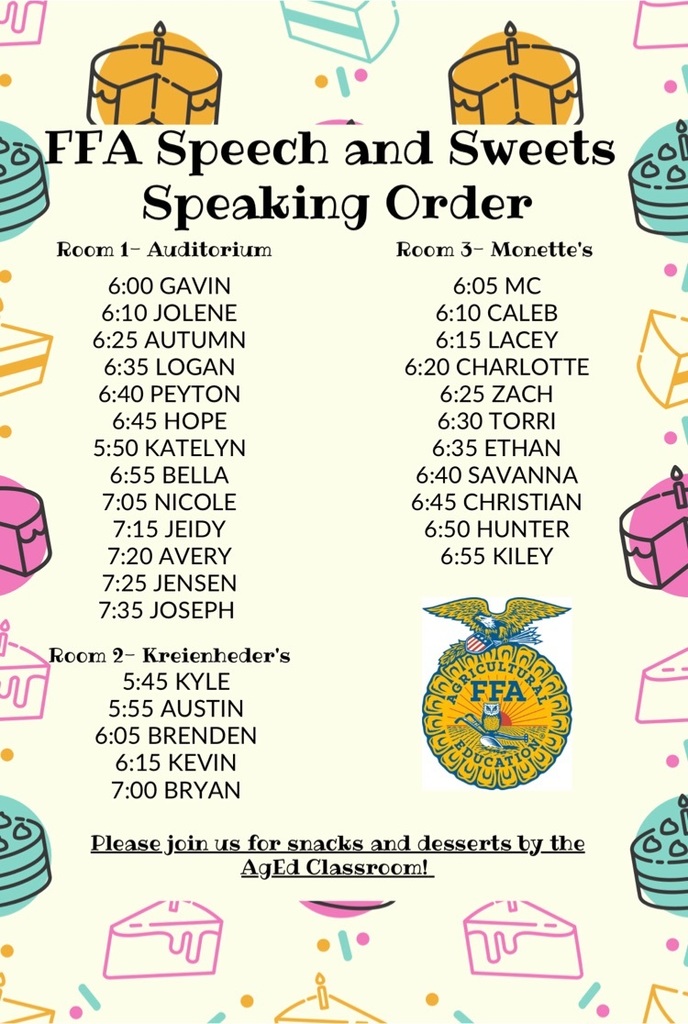 Just in time for Christmas!!!! . . . . The Julesburg High School Future Business Leaders of America is selling our gently used IPAD Air Computers for $50 each. The model number is MD785LL/B with 16 GB. These will be sold as is! Some batteries hold a charge, others need to be charged, and charging cords come with each IPAD. You have your choice of a FREE case as well – we have an adult style case and some children's cases. All sales are final. First come, first serve. Please respond to this post and a member of the FBLA Chapter will be in touch with you!! We accept Julesburg Bucks and cash.

Just a reminder: The Julesburg High School FBLA Chapter is teaming up with the Sedgwick County Health & Human Services to conduct a winter coat and blanket drive for those in need. Please set aside your gently used, clean coats, and blankets. You are welcome to call the Julesburg High School to schedule a pick up and a member of the FBLA Chapter will return your call to schedule! Or you are welcome to drop them off at the Julesburg High School during school hours or during any scheduled Jr. High or High School event, or send them with your students!!! Thank you for helping us, help others!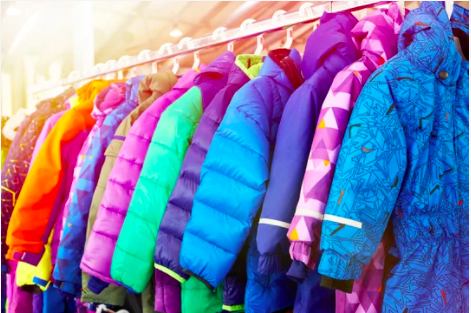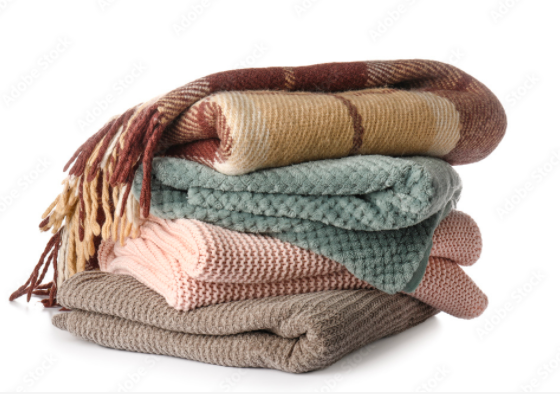 Third grade wrapped up their reading unit "Let Freedom Ring" we learned how historical places, documents, and symbols represent our nation. To close our unit, Mr. Jules Hoschouer and Mr. Phil Mollendor came in and taught the class how to properly fold the American Flag.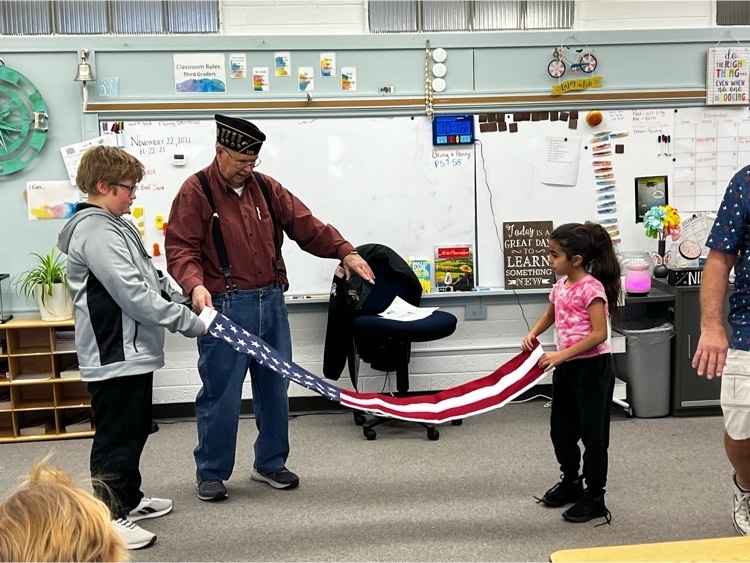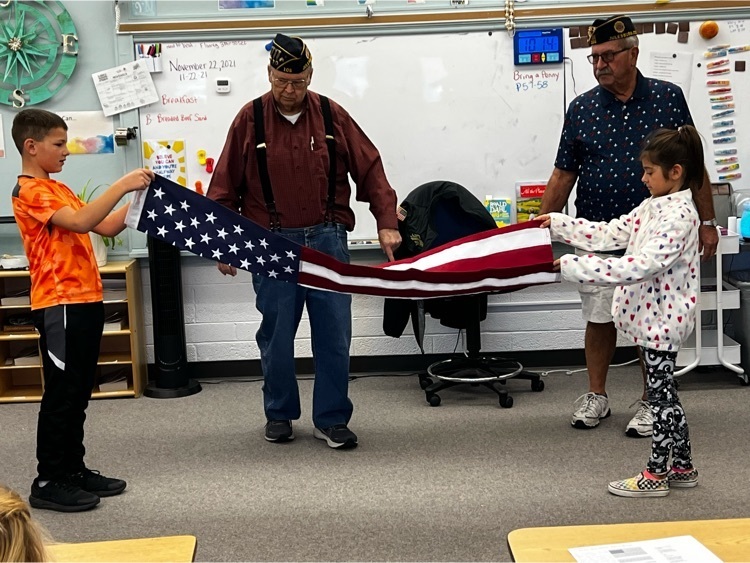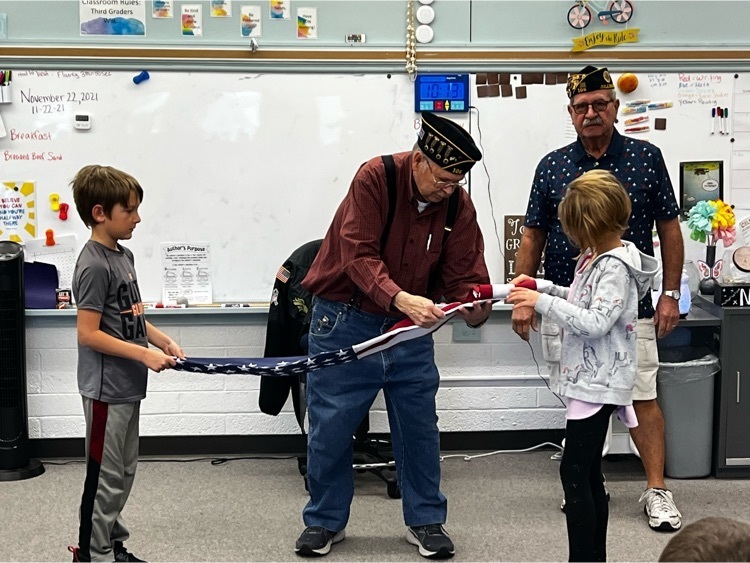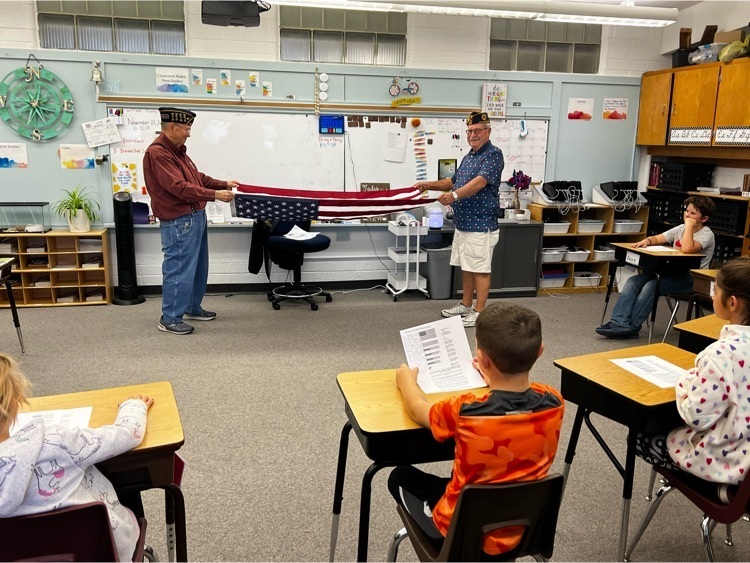 JSD Food Service Menu for the week of November 29th through December 3rd...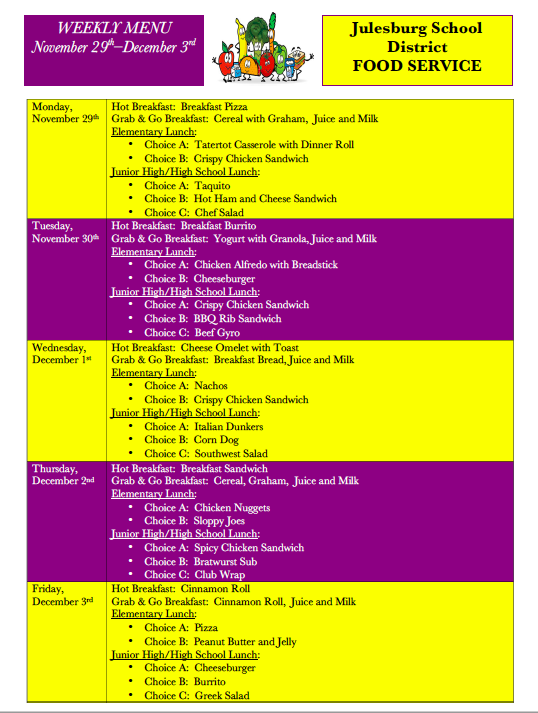 HS Art students cleaned and painted the Angel Tree on the Nursing Home entry window. Let the season of giving begin!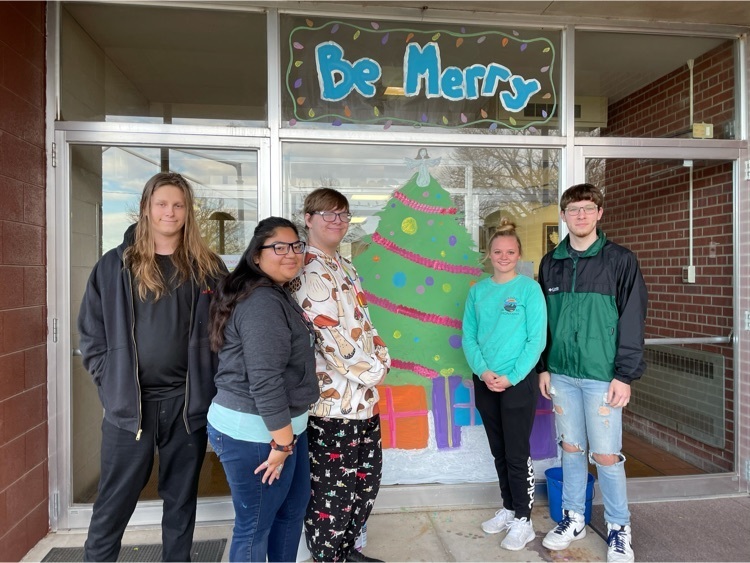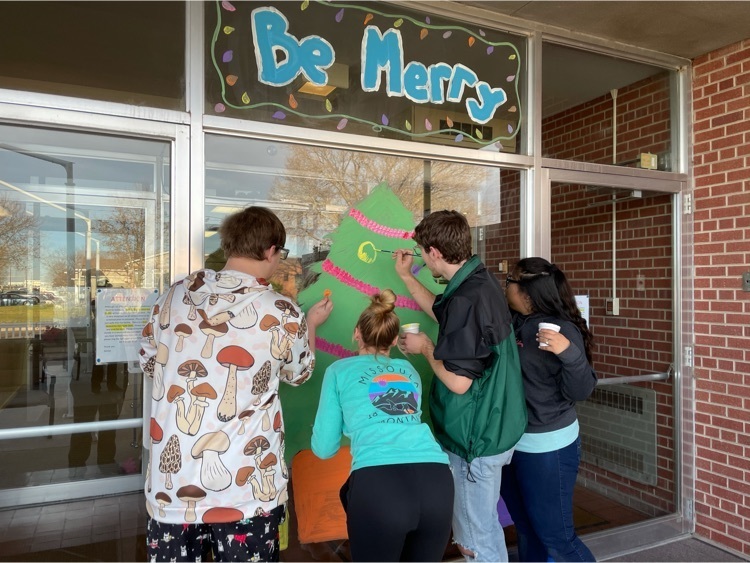 JES students enjoyed a fun Thanksgiving song in music class before going on break. The song was Gobble, Gobble by Matthew West. Check it out this Thanksgiving!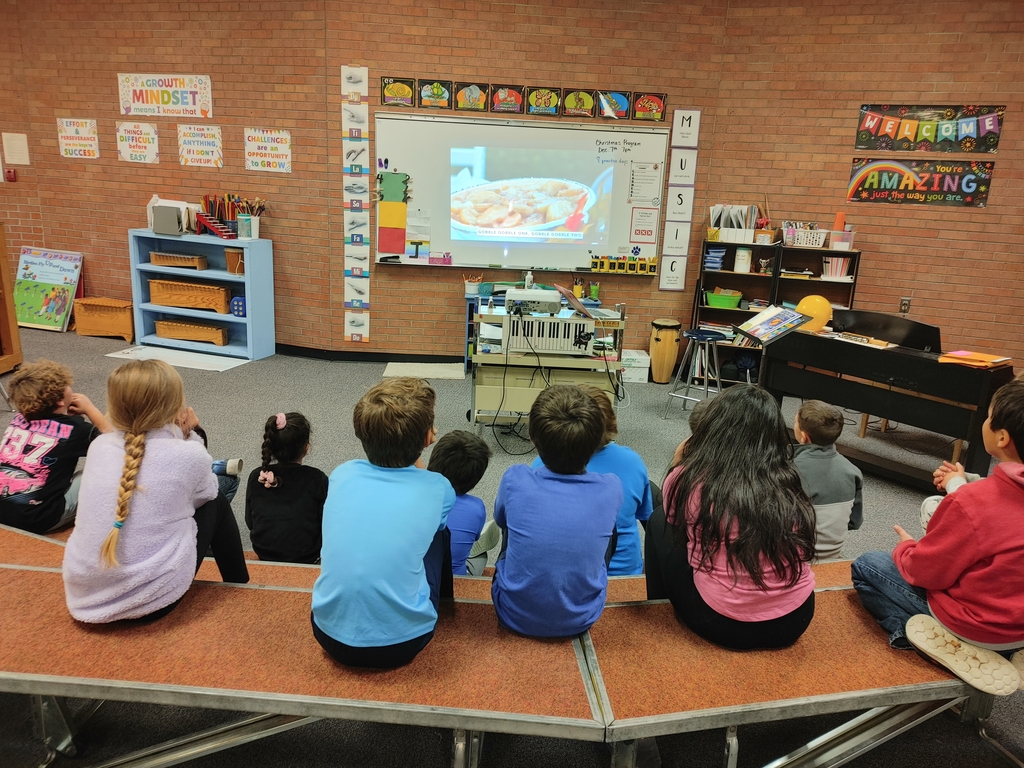 Kindergarten had an audience from Pre-K and 1st Grade to read their published ABC book to. They were excited to share their book with others!

Kindergarten had an audience from Pre-K and 1st Grade to read their published ABC book to. They were excited to share their book with others!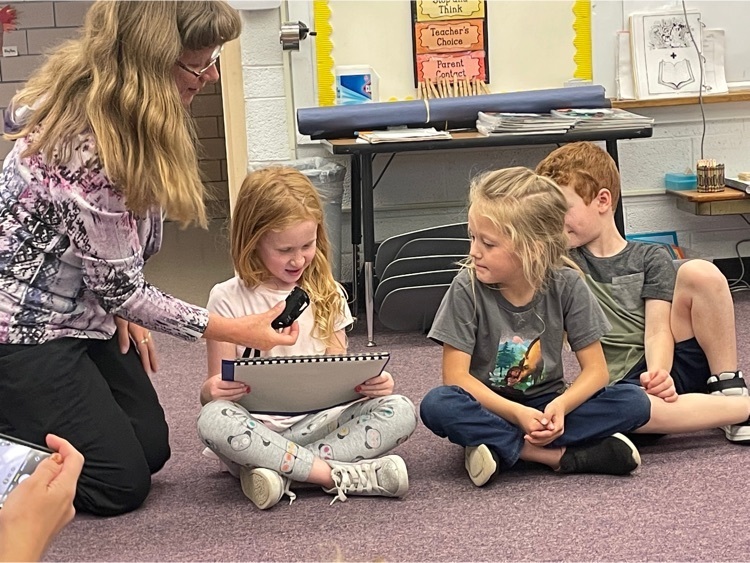 Kindergarten had an audience from Pre-K and 1st Grade to read their published ABC book to. They were excited to share their book with others!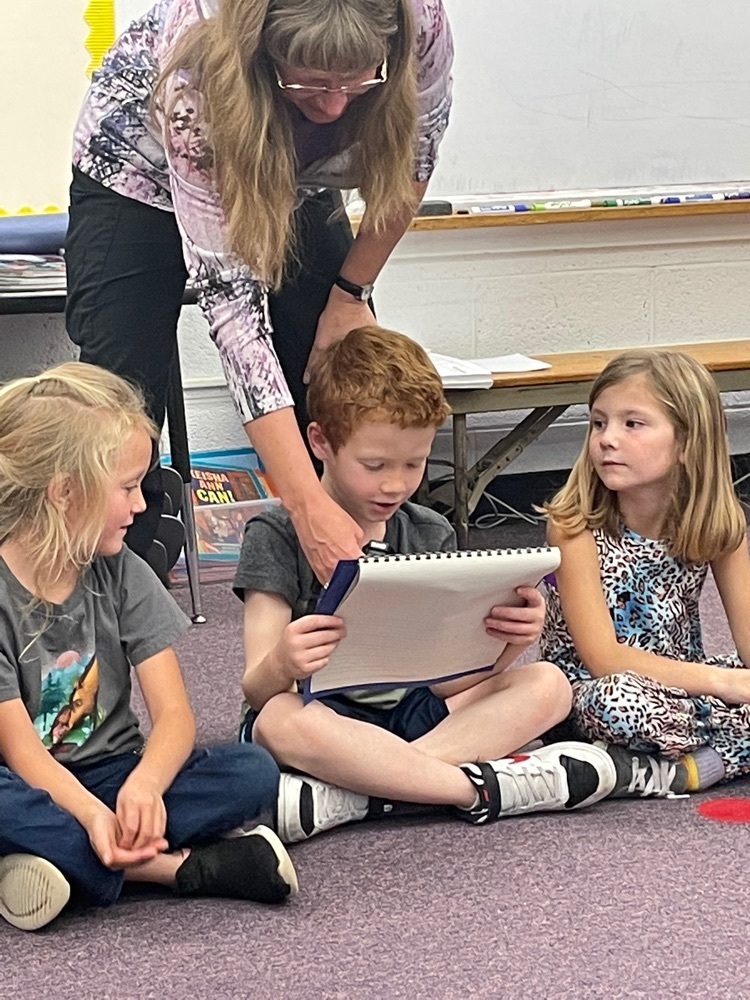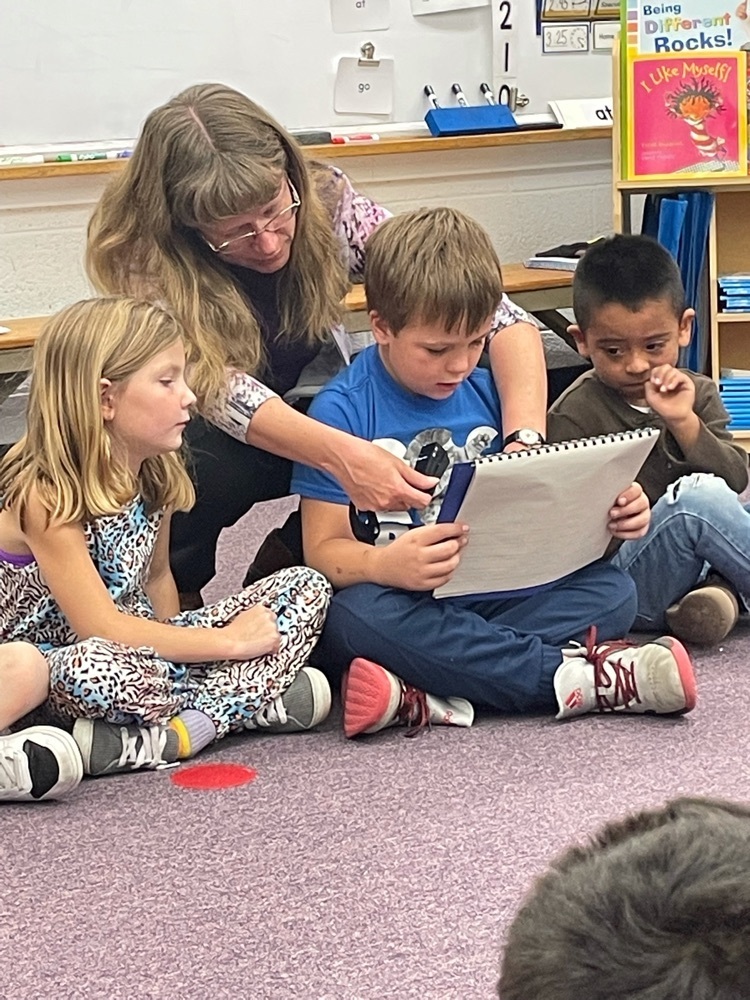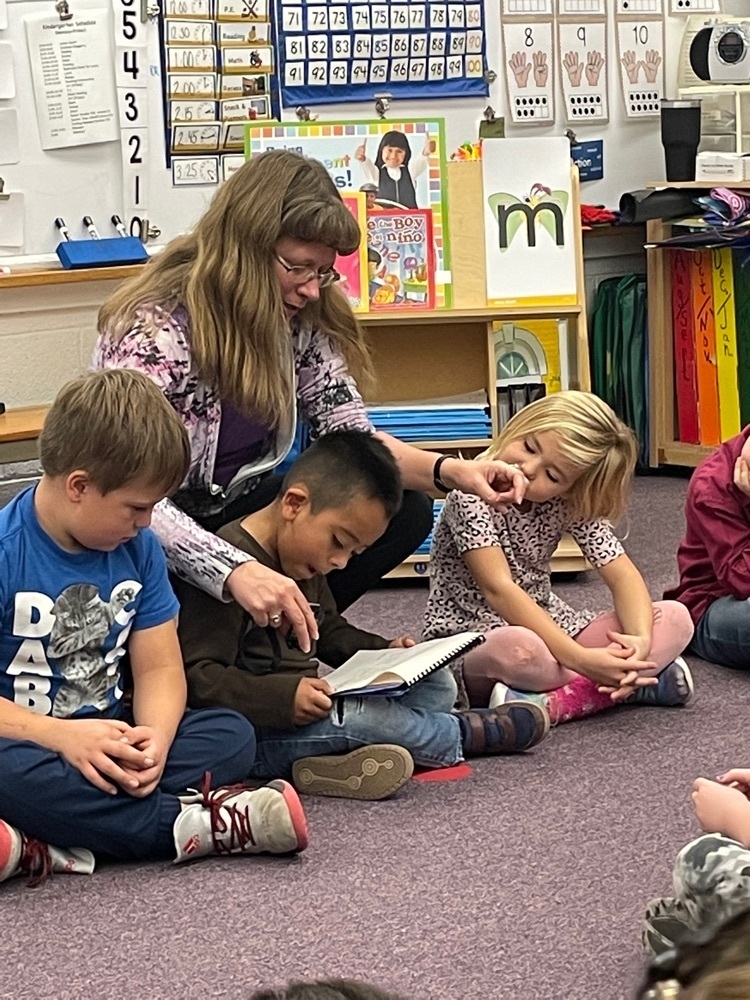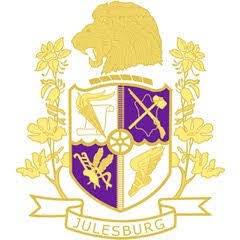 Third Grade has been learning about historical places and events in our reading unit the past couple of weeks. This week's story is Why is the Statue of Liberty Green? Did you know the statue was copper brown when we received it from France? Over time weather created a patina on the statue which is why it is green. We did an experiment to replicate this and turned copper pennies green.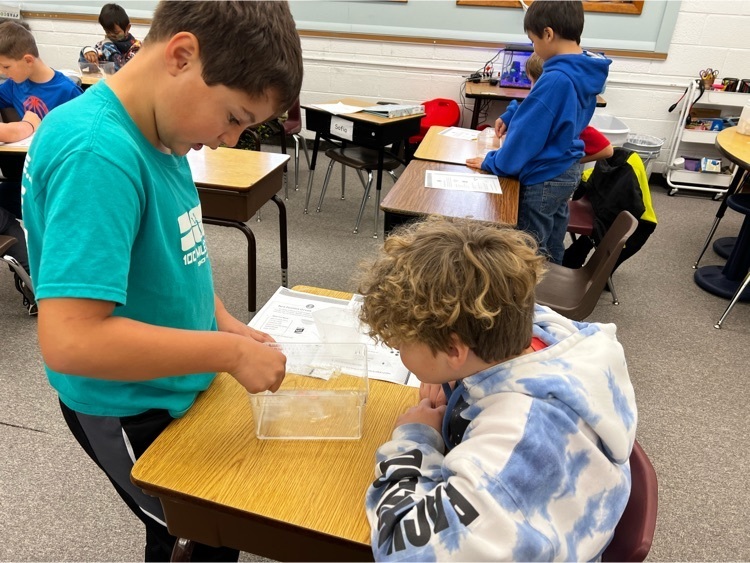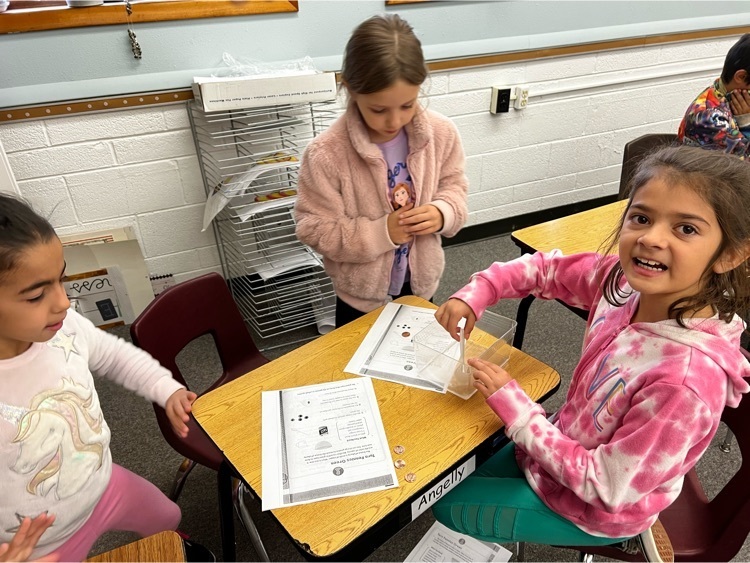 A Mission Trip To Costa Rica Sparked a Love for Teaching By Joseph Beeson As the new school year came around, Julesburg High School hired a plethora of new teachers. I, Joseph Beeson, am a journalism student at JHS and was honored with the task of interviewing Ms. Stephanie Seidl, one of the primary school teachers. She teaches the 6th grade class and is super excited to be able to impact their lives. Ms. Seidl is from Wisconsin and she likes to joke about it because she has a pretty noticeable accent. She is very fond of sports such as baseball and college football. She has a goal of visiting all of the famous baseball fields in America. Another hobby of Ms. Seidl is growing plants such as sunflowers. She also loves to travel, and has traveled to places such as Canada, Mexico, and Costa Rica. She enjoys road trips but not big international travels. On a mission trip in Costa Rica with her youth group one summer, Ms. Seidl found her passion to teach. Ms. Seidl and her peers helped kids at a school there with reviewing for their test and helped teach them English. When she was there she didn't think the trip would have such a big impact on her but when she went back to college she had a feeling that she needed to be a teacher. After becoming a teacher and teaching for a couple years at a different school, Ms. Seidl was looking for a new job and someone she knew contacted her about a job opportunity in Julesburg. They told her about how it's a small community and how everyone knows everyone, and she liked that. So she took the chance and decided to apply. Throughout years of teaching, Ms. Seidl has gained much experience and many memories. As a teacher, one of her favorite moments is when a kid has an "aha'' moment. When they light up and finally understand, it is a sight that she loves to see. Focusing on her students' strengths is part of her philosophy. She focuses on helping them find their strengths and perfecting them. Ms. Seidl works hard everyday to help students succeed and teach them new things. All of that hard work comes with a lot of responsibility and grading to do. One thing that I really liked was when Ms. Seidl talked about her desk. "My desk is a hot mess... it's like my bedroom as a kid, I was very messy but I knew 'oh that thing is underneath all of this stuff.' But it ebbs and flows, there are days that it's really nice and clean and then other days where it's like, I hope I can find where I put this." Before becoming an amazing and very helpful teacher, Ms. Seidl wanted to be an architect. She aspired to build and design houses; to make homes for a living. Thank goodness she didn't, though, because who knows where we would be without her. So beyond her messy desk and funny accent, we're grateful to have Ms. Seidl here. She's already a big part of the primary school and the teaching process that happens there. Thank you Ms. Seidl for all that you do!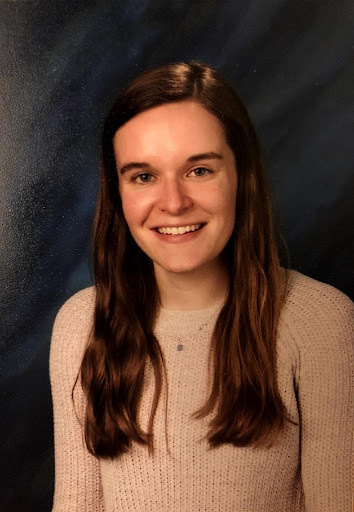 Meeting Ms. Keli By: Torrance Black I'm a student at Julesburg High School, and my name is Torrance Black. I'm in journalism and I got the amazing opportunity to interview Keli Houschouer. Ms. Keli is a teacher at Julesburg Elementary. Keli is her first name, and the students call her Ms. Keli since there is another teacher with the same last name as her, and this makes it easier for the kids to know who's who. She is an outgoing person and absolutely loves teaching kids! Ms. Keli grew up in Sterling, Colorado and graduated from Sterling High School. She and her husband Chris moved to Julesburg, although her husband is initially from Julesburg. They have been living here for about eleven years now. Ms. Keli never thought of becoming a teacher when she was younger. She wanted to be a photojournalist but that didn't work out, so then she went to school for cosmetology and kept her license up. She also managed a restaurant and went on to work for the Department of Corrections. Ms. Keli used to work at the Sterling Colorado Prison and she says, "Driving there and back every day wasn't something I looked forward to doing, so I got into looking for a job closer, and found out there was a para position at the elementary school, so I applied." She's never worked somewhere like a school, so it was definitely a change. One of her co-workers told her that she should go back to school to get her degree for teaching. She finally decided to do so, and earned her degree online through Colorado Christain University. Ms. Keli shared with me some of the hard parts about becoming a teacher, and also some of her favorite parts about being a teacher. Ms.Keli's hardest parts about teaching are staying ahead of her plans. Ms. Keli said, "There are certainly challenging days but there is always a new day. I like to say it could be worse but it could be better." Some of her favorite parts of teaching are being around the kids. She absolutely loves kids, and loves being able to help her students. I asked her what her teacher philosophy was and she answered with "I believe that every student can learn when given the right opportunity and environment." As a student, that mindset from teachers makes us students feel good about ourselves, and makes us want to work harder. Although being a teacher can be challenging and takes a lot out of you, Ms. Keli definitely thinks it's worth it. She absolutely loves her job and wouldn't trade it for the world. Keep up the good work Ms. Keli, and we want to thank you for becoming part of our school community!


Week of November 22nd-26th JSD Food Service Menus...

The second graders made postcards as part of their performance assessment to wrap up the Ancient Greece unit. They had to choose a subject and tell three facts or more about it. The writing was in letter form with a picture to match their writing on the front. They all would hardly even let me keep them to grade them! They are very excited to share them with their parents.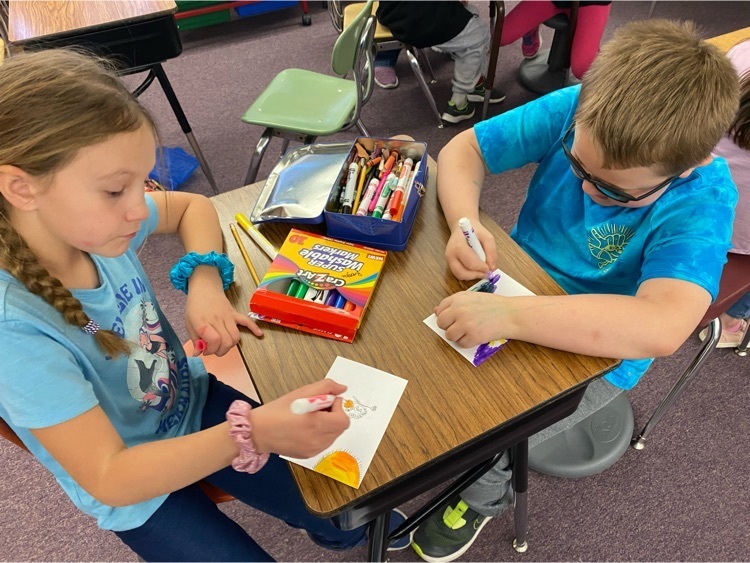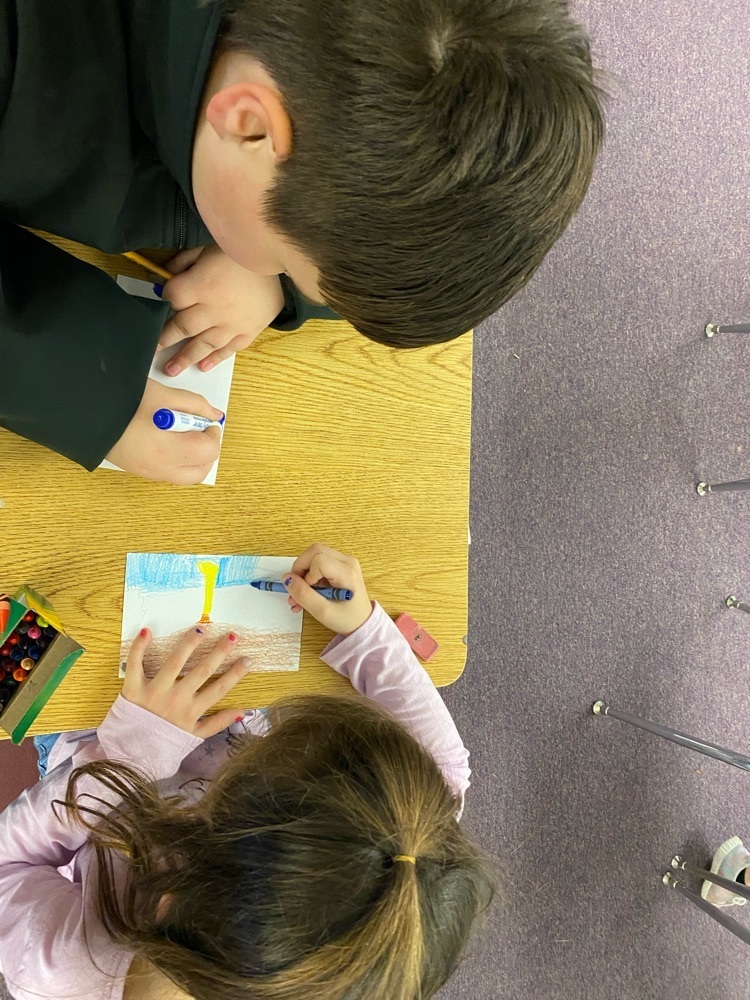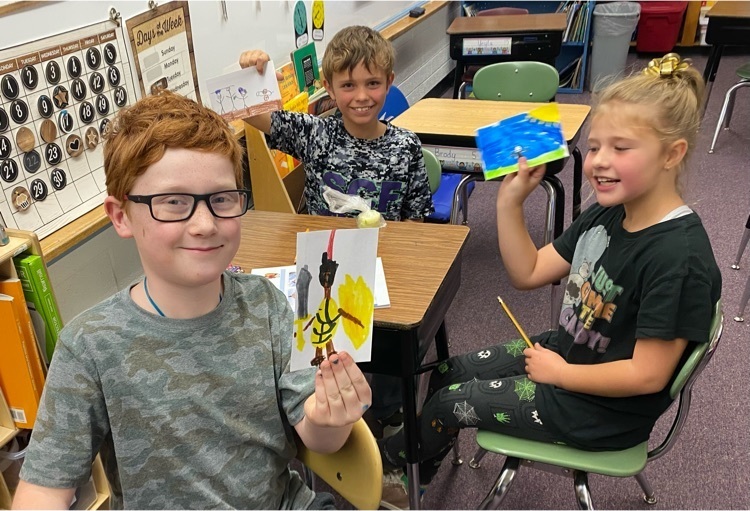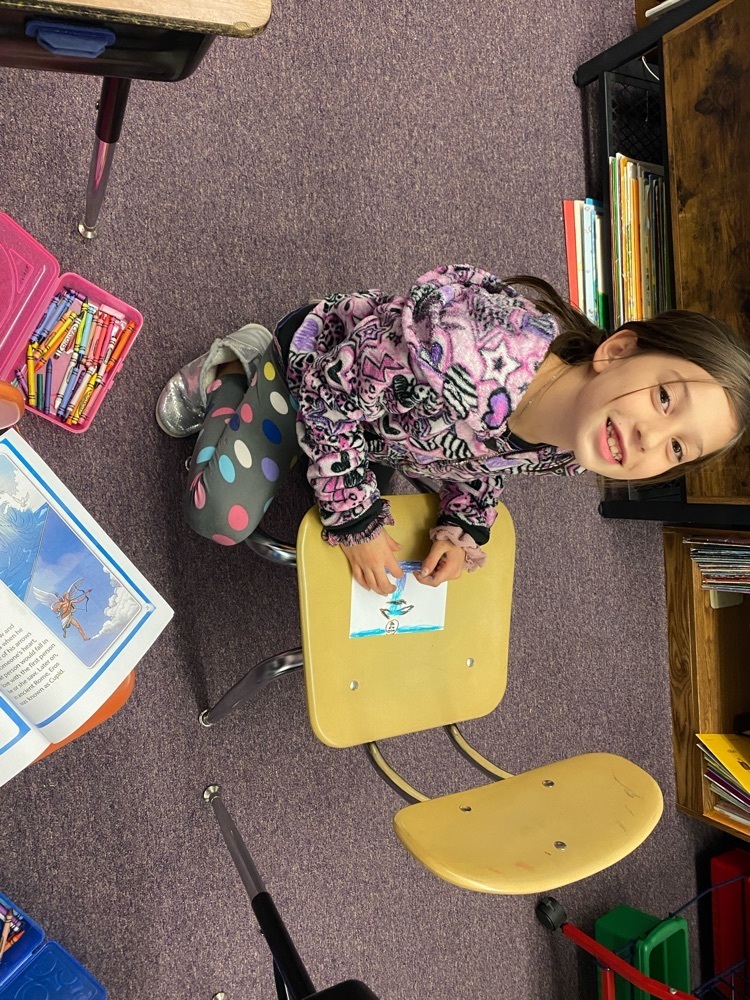 Mrs. Wilber: A Teacher Who Loves Children By: Luis Gonzales As a journalism student, I had the honor of interviewing one of Julesburg Elementary's new teachers, Mrs. Marilyn Wilber. She is the new 5th grade teacher, but she has actually been working with the Julesburg School District for the last 20 years. Mrs. Wilber also went to school here in Julesburg along with a good majority of her family. Her three sons, Korbyn, Bryce, and Devin, also went to and graduated from Julesburg High School. Some of Mrs. Wilber's life ambitions include watching children grow, develop, and being a mother. Mrs. Wilber saw early on how happy educating her own children made them, so she decided to spread the happiness to other children by becoming a teacher. One of the best things about teaching for Mrs. Wilber is the kids. She explains that she loves: "To watch kids grow and see that they're happy. I think I've already seen that. My son values education. That was one of my biggest things. I wanted my children to value education and to make the most out of the education that they received, and to see that I can have that same effect on students." I think this is amazing because it shows how devoted she is to furthering the education of Julesburg High School's students. When asked about the organization of her desk, I learned that Mrs. Wilber is actually left-handed which came as a shock to me. All her papers have to be organized to the left of her desk so that when the stack of papers is gone she has entered all the grades into the gradebook. As a young girl, Mrs. Wilber wanted to be a nurse and worked as a nurse for a few years and an EMT for a few as well. I asked Mrs. Wilber if she did any extracurricular activities during school and she said no. She started working at the age of thirteen and has been working every day since. To me, this shows that Mrs. Wilber is a very hard working person. When asked about the worst part of teaching Mrs. Wilber said that going home was the worst part because she enjoyed teaching children so much. When I asked her what the best part of her job was, she told me it is "the kids. I am all about students, I am all about kids." To me, this proves that Julesburg has made all the right decisions in hiring teachers.
Ms. Auernhamer: Spreading Smiles and Positivity Throughout the 4th Grade By: William Jacobs Recently I had the amazing opportunity to interview Ms. Auernhamer, the new 4th Grade Teacher and Junior High Volleyball Coach at Julesburg. This is her first year teaching in Julesburg and so far she has been really enjoying it. Teaching has been Ms. Auernhamer's passion for a long time. Education has always been a big part of her life seeing as her mom and aunt were both teachers. Growing up she knew that she wanted to be a teacher. She said: "I have wanted to be a teacher since I was little. I remember playing school when I was in elementary school, and I was always a teacher." Before she started working here, she was a para and special education teacher. She enjoyed her previous job but wanted to have her own classroom. Ms. Auernhamer teaches 4th grade. She says that the best part about it is "knowing that [the students] are excited to see you every day, even though if they had a bad day before or if they had a bad morning, they're just excited to be in the classroom." She likes knowing that she gets to leave a positive impact on the students. Her teaching philosophy is that "I just want every kid to feel like they have a safe place and that they are included in the classroom. And if I can make that happen, then their academics will come with that." When asked about the bad parts of teaching she said that figuring out how to grade students and making plans during her short planning period are the hardest part. Ms. Auernhamer has other interests in life, too. She has a childhood cancer awareness fundraiser that she has been running for the past 11 and a half years. She said that "it's getting bigger every year so that's really exciting so I'm really hoping to keep that going and raise money for them." Besides her fundraiser Ms.Auernhamer also likes to play sports, go on hikes, and to go running. When asked about Julesburg she said she wasn't quite used to how small Julesburg is. She grew up in Longmont, Colorado with a graduating class of around 375 other students. She said it's hard to believe that her 19 fourth graders are that year's entire class. When asked why she chose Julesburg, she said that she always wanted to teach in a smaller town. She liked the community and when she talked to the principal everything felt right. She actually ended up moving here a year earlier than expected. Ms. Auernhamer was fun to interview and I hope to talk to her again in the future. I wish her the best of luck in her teaching career and hope she enjoys it here in Julesburg. Thank you for reading about one of our district's newest teachers.